PacPrint afforded Rodden Graphics the opportunity to showcase the synergy between three of the products in its labelling portfolio: Canon, Edale and Prati. "It's a very good mix for us," noted James Rodden, Director of Rodden Graphics, "as it gives us the possibility to offer solutions to customers with the Canon LabelStream 4000 hybrid press or the Canon Core series together with Edale's versatile FL5 single pass, highly productive folding carton line or Prati's digital finishing and converting processes.
One customer who saw the advantages of the LabelStream 4000 was Impact Labels. The company's commitment to continually invest in the latest technology and equipment resulted in the first Asia Pacific sale of the Canon LabelStream 4000 late last year with the press now being delivered at its Brisbane premises and scheduled for installation in August.
Managing Director Byron Hudghton is proud of the excellent working relationships Impact Labels enjoys with both customers and suppliers. "Couple this with our attitude towards technological progression and you have the driving force behind Impact Labels' year-on-year growth since its founding in 2006," he noted.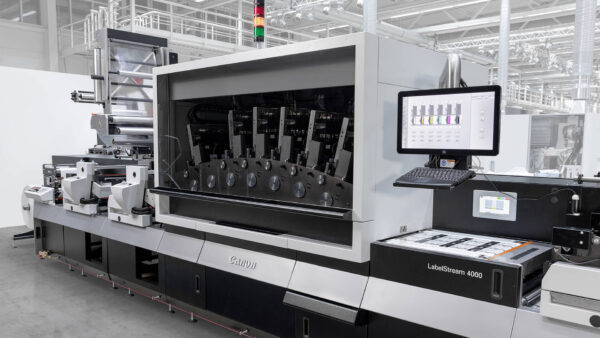 The LabelStream 4000
"With this latest equipment acquisition Impact Labels looks forward to even better servicing our expanding customer base; and is excited at the new market opportunities the LabelStream will open. Boasting a print-width of 410mm and a production speed of 75m/min – even with Opaque White – Impact Labels is confident to enter the digital space with a machine that suits our high standards of both quality and throughput."
Craig Nethercott, Managing Director, Canon Production Printing Oceania, said, "We are excited to have introduced the Labelstream 4000 into the Oceania market in partnership with Rodden Graphics and look forward to implementing the first system at Impact Labels.
James Rodden adds, "We are delighted that Impact Labels has purchased the first Canon LabelStream 4000 digital machine system in Australia, and we are confident that the installation will bring add-on value benefits to Impact Labels in the future."
Caption:
James and Sarah Rodden on the Rodden Graphics stand at PacPrint