Kingston Data Systems, the Melbourne based manufacturer of print inspection and machine monitoring technology has unveiled its latest innovation which promises to change the way printers operate.
 Quantum Efficiency Management System offers a complete, new approach to efficiency management for converters. Quantum builds on its ready proven platform for highly accurate machine data collection, while at the same time extending its reach by providing sophisticated job performance feedback for machine operators. 
Efficiency Management Units 
KDS' unique Efficiency Management Units (EMUs) are easily retrofit to any converting machine. Once installed the EMUs continuously monitor the machine, measuring and categorising every metre of material used and every second of machine activity. 
But EMUs are far more than just data collection equipment. They connect to a Quantum server, which in turn imports Job Specifications from the company's existing MIS/ERP system.  These job specifications, which include amongst other things, estimated set-up times, estimated run speed, estimated waste, etc., are downloaded to the EMU on each printing machine. From then, the EMU become an incredibly valuable tool for the operator, providing real-time feedback of the machine performance and completely engaging him/her in proactive efficiency management.   
The unique EMU dashboard assists the operator throughout the job, continuously comparing the actual job progress against the job specification and showing the operator exactly how he is performing against the job plan. The EMU indicates where the job is on track, where it is falling behind and will even alert the operator if the job is running too slow to complete on target.  
"We looked at how customers were using our previous installations and saw that even though we were providing management with excellent quality productivity data, the system was still not engaging the machine operators.", Said Mike Young, Managing Director of KDS.
"Data collection was an additional task for them to do on top of everything else. We could see the huge value of having the operators fully engaged in improving manufacturing efficiency, but they didn't have the tools to work with, so we have created them." 
Connectivity
Since EMUs effectively connect printing machines to the customers computer network, any manager with suitable login permissions can access the live data. Managers can see real time job progress, job performance statistics and alerts when things are not quite going to plan. And since Quantum uses the latest web technology, authorised users are able to access this information from any PC, laptop, tablet or smart phone at any time, and from anywhere in the world.
Reporting
At the heart of the Quantum system is a powerful relational database, where every aspect of every job, every activity of every operator and every metre and every second of activity on all machines connected to the Quantum system is automatically stored. 
The stored data provides managers with an unprecedented databank from which they are able to analyse anything from reel changes to washups, individual jobs to operator performance, machine efficiency comparisons, departments and overall plant performance. Quantum is also able to collect and report on data from multiple plants.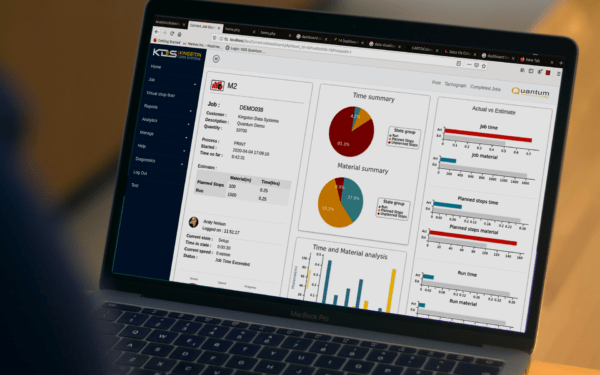 "We have also now made this equipment available as a service", said Mike, "so printing companies both large and small can have easy access to Quantum, on a monthly subscription. The system quite simply pays for itself through the saving made."
For more information on Quantum visit Kingston Data Systems at www.kingstondatasystems.com or email to sales@kingstondatasystems.com.