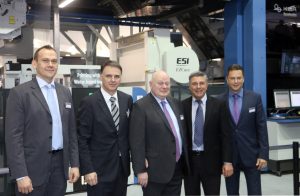 Alongside numerous sheetfed offset, commercial and newspaper press installations, the Koenig & Bauer Group (KBA) now wishes to expand its footing with CI flexo web presses for flexible packaging in Australia and New Zealand. Subsidiary KBA Australasia signed a corresponding sales and service agreement with KBA-Flexotecnica in Italy at the industry's leading trade show, Drupa, that ended last week. Dave Lewis, general manager of KBA Australasia: "Services for existing flexo customers are thus secured and we are able to strengthen our position in this growth market considerably. We have gained an experienced sales manager for the cutting-edge presses from KBA-Flexotecnica with Peter Stewart."
"With his longstanding experience and his contacts in the flexible packaging market, Peter Stewart will help us reach our ambitious targets," says Claudio Bisogni, managing director of KBA Flexotecnica. The Italian KBA subsidiary based in Tavazzano, near Milan, develops and produces modern CI flexo web presses for printing on paper, film and other flexible packaging materials.
Growth market flexo for flexible packaging
With a global annual growth rate of 4-5% flexible packaging produced predominantly with flexo and gravure is the highest growing packaging segment. There have been huge advancements in the quality achieved with cutting-edge flexo presses through progress in prepress, printing formes (blocks, sleeves) and colour management in recent years. The same is true of the increasingly more popular topics of environmental friendliness and the use of low-migration/migration-free inks. Here flexo has clear advantages over gravure through its lower usage of solvents and a new generation of water-based or radiation-curing inks for non-absorbent substrates.
NEO XD scores points at Drupa with quality and water-based inks
KBA-Flexotecnica demonstrated outstanding print quality and sustainability with water-based inks at Drupa with the new CI flexo web press, the NEO XD LR. The hybrid press is engineered for handling water-based and solvent-based inks as well as radiation-curing UV-LED and EB ink systems. The NEO XD is suited to printing various run lengths and printing on film, paper and board with up to 12 print decks, print lengths up to 1,200mm (47in), print widths up to 1,650mm (65in), speeds up to 55m/min (1,640ft/min) and a new dryer generation. It features cutting-edge technology when it comes to automation for fast job changes. Ease of operation and maintenance has also been improved compared to the previous press generation.
Photo 1:
The NEO XD LR HYBRID from KBA-Flexotecnica won over visitors with its fast job changes and maximum quality when printing with low-migration, water-based inks
Photo 2:
L-r: Andreas Friedrich, KBA China, Claudio Bisogni, CEO KBA-Flexotecnica, Dave Lewis, KBA Australasia, Peter Stewart, KBA Flexotecnica sales manager/ KBA Australasia, Stefan Segger, KBA AsiaPacific