Leading flexo and combination press provider OMET put innovation front and centre at Labelexpo, with a suite of new solutions designed to illustrate its project, 'OMET – The Green Side of Printing'. With demos running daily on three major new machines and the team from Australian agent Currie Group on hand to provide local expertise, it was a huge show for the market leader.
Taking centre stage at Labelexpo were the new XFlex X7 for shrink sleeves and flexible packaging, which Mark Daws, Director – Labels & Packaging ANZ at Currie Group, says has been designed to disrupt the shrink sleeve and flexible packaging market with a suite of features including a highvalue rotogravure (HVR) print unit, which debuted at the show.
"Printers and converters are constantly being asked to innovate to help brands attract customers with new options that establish differentiation, drive sales and build brand loyalty," Daws said. "The X7 is what OMET calls 'pathbreaking' technology, providing an entirely new range of options like soft-touch, leather, sand, textile, peach and other tactile effects for shrink sleeves and flexible packaging materials."
At its heart, the X7 is a 670mm flexo machine which easily handles a wide range of substrates from 12 microns. Its modular design enables the integration of other technologies including OMET's Soft Touch Vertical Flexo Station which can produce soft-touch applications using either water or solvent-based inks, its new HVR rotogravure printing unit, a new rotary screen unit, and a new flexo station designed with Zero Gears Solution.
"The X7 can be configured to deliver an enormous variety of options and finishes for even the most demanding and complex requirements, with maximum precision, high levels of automation, ultra-fast setup and 'near zero' waste," Daws said.
Also creating plenty of interest was a new version of the hybrid XJet, powered by Durst, which Daws says is the only hybrid machine on the market which can print shrink materials with combination flexo and digital inkjet.
The third machine demonstrated was an eight-colour iFLEX with UV-LED, the latest in a range which was designed for easy, intuitive operation, fast setup and changeover and high quality results.
"The new iFLEX delivers excellent quality and perfect drying, at high speeds and with considerable energy savings," Daws said, saying it provided a perfect entry level or complementary solution for businesses wanting to produce a wide variety of labels, including wraps and shrink labels.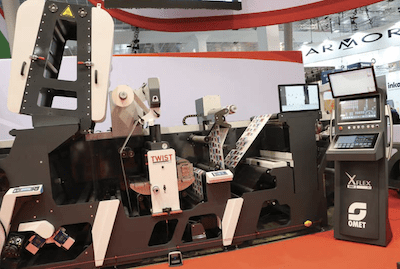 In line with its focus on sustainability, OMET also featured the laminating module it designed as part of the new Core Linerless Solution – a collaborative project between OMET, Ritrama, Spilker and ILTI – to process CLS self-adhesive film into a single-ply, linerless web, ready for dispensing using a special linerless module.
"CLS is generating a lot of interest, particularly for the food and beverage, home products and personal care sectors," Daws said, pointing to savings in materials, cuts to transport and logistics costs, less machine downtime, lower energy and CO2 emissions, as well as higher productivity and efficiency, with lower waste.
"It's exciting to see OMET's advanced R&D into sustainable materials and inks, air recycling, UV-LeD drying and waste reduction, all come together in these new products," Daws said. "We can't wait to introduce them to the wider ANZ market over the coming months."
OMET Mark Daws Currie Group, Claudio Piredda, OMET SRL, Wayne Quayle, Currie Group.