Onpack, a member of the Southern Impact group now located in Mount Waverley, Vic, has made its first move into Flexo label printing with the installation of an OMET X-6 430mm web press, supplied by Currie Group.
Originally located in Brunswick, Onpack is now co-located with other Southern Impact group companies, Southern Colour, Impact Digital and Intelligent Media – but retains its independent Onpack name. The 7,000sqm building is the former Geon Victorian headquarters that became Rooster IMC following the collapse of Geon. Southern Impact acquired the assets of Rooster IMC and The Bindery in 2019.
Onpack was established in 2016 as an all-digital label printer and, under Michael Nankervis' stewardship, has proved to be highly successful – so much so that customers are requesting longer print runs, flexible packaging and Flexographic capabilities. This, and the move to larger premises enabled the move into Flexo to become a reality. Flexo in a time of pandemic Italian flexo press manufacturer OMET was chosen as the supplier, ably assisted by the deep local support of agent Currie Group.
This proved to be indispensable during the Covid-19 pandemic and Victorian lockdown, but the Currie Group engineers, in unison with Onpack technical staff and online calls to OMET in Italy, rose to the challenge in a magnigicent way, tho achieve what many would have said would not be possible. Michael Nankervis takes up the story: "The installation was very smooth with Currie Group – even without any representation from OMET's factory engineers from Italy who could not attend due to Covid-19. The press is a great addition to Onpack's equipment list and will assist with our growth strategy stretching into new markets.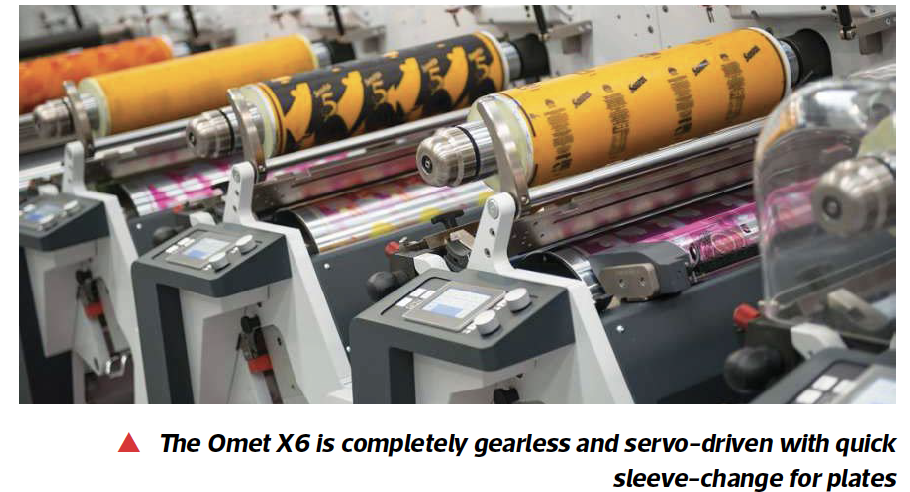 We are looking forward to working with OMET and Currie Group going forward."
The OMET XFlex X6, to give it its full name, is a 430mm web width, eight-colour machine, fully servo-driven and gearless. It can run at up to 200 metres-per minute and the unwind/rewind reels can be up to one metre in diameter.
The inking system uses quick-change cassettes and photopolymer plate-change is also speeded up by the use of sleevetechnology – the plate sleeves simply slide onto the mandrels and are locked on.
Gearless, lightweight anilox is another important feature. Coupled with the quick change (tooless) inking system, further productivity enhancements such as the TWIST die cutting station, dramatically reduces change over time.
The Omet X6 platform comes standard with a rail system for mounting embellishments such as delam/ relam, cold foil and Peel and seal just to name a few.
With the Omet press and chosen options, the opportunity door is wide open for being able to offer a wide, diverse product range, from PS labels, multilayer and highly embellished labels, through to filmic products such as shrink sleeves.
Onpack's art house apply the Vision system template to the files so when at the press, the Automatic length and side register system goes to work, allowing the operator to concentrate on other tasks, again, assisting in reducing set up time and waste. LP