Two years ago there was no label printer called Onpack. This changed dramatically in the middle of last year when Michael Nankervis and his team established Onpack at Brunswick, an inner city suburb of Melbourne, and "Labels Plus" asked Michael to recall the way the company was established and the strategy behind setting it up. 
"Onpack was started as a 'greenfield site', so it is a brand-new company," said Michael. "But while the company is new, it was established as part of a group of graphic arts companies that included Southern Impact and sister companies – Southern Colour in Keysborough; Impact Digital; and Intelligent Media. This weighty background gave us a depth of knowledge in the printing/media area, and we saw Onpack as a perfect addition to the Southern Impact. It was a deliberate and planned diversification away from commercial print to labels."
They analysed the market and saw that the label sector was a growth sector. "It wasn't double-digit growth or anything like that, but we saw sustainable growth. And what we did see was an opportunity for a 100% digital player in the market. We also had existing clients in our other businesses who were needing labels."
Asked how they settled on the printing systems they finally chose, Michael said they identified the trends out of Europe, where there had been an increasing number of inkjet machines sold. "It was obvious that the trend was to inkjet and we believe it will become more apparent in other sectors of the market over time, whether that is board, commercial print or labels.
"There were a number of key drivers behind selecting the SCREEN L350 UV Inkjet, one of which was a 20-year association with SCREEN with plate-setters and the like. But one serious benefit was being able to supply products with outdoor durability and scuff resistance, and use light-fast inks with UV characteristics, particularly for the chemical/industrial markets. An added plus is flexibility, having the ability to change web widths freely, without having to change blankets and so forth, and go from 330mm down to a 200mm web, to a 100mm web, all done in minutes. It gave us the opportunity to save a significant amount of money on substrates – the biggest import cost in labels."
He said the majority of work they had been doing was for food and beverage manufacturers, and craft beer was also a growing part of the business, as has the work they have done for chemical and industrial companies. Asked about the packaging sector, Michael said they had done some work in the carton area, but were tending to concentrate on label clients.
Michael said once the decision was made to purchase the SCREEN, they worked with Jet Technologies who had a press on the floor of their Sydney show room. "I saw the unit at drupa in Germany, and Jet's unit operating in Sydney. We did some tests and they confirmed the decision. We also decided to go with Prati for our finishing machinery. We dealt with James Rodden who was working with Heidelberg then, though Jet has the Prati agency in Indonesia. So we've had some valuable guidance in that area and we did the entire factory testing of the unit with Prati in Italy."
Asked about his own background Michael said it was more on the management side. "I have been around print and commercial print my whole life, with family businesses. My qualifications are in Accounting, but I have also worked in the capital investment space with Australia Post and Network Rail in the UK. So after a few stints in the corporate world, and a bit of time canvassing the print market to see the gaps, decided that labels presented an opportunity."
He said SCREEN provided technicians who offered on-the-job training, and they had technicians from Italy to train their staff on the Prati. Asked how it had gone since they opened their front door, Michael said in one word: "fantastic!
"With the support of SCREEN and Jet Technologies it has been terrific. We are increasing sales month on month, so it has been a success. We still have a long way to go – and there have been challenges – but we have learnt a lot and enjoyed the journey."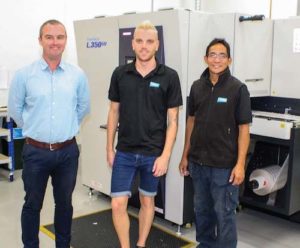 (Left – right): Michael Nankervis, Managing Director at Onpack with operators Scott Aston and Daniel Escalante.