Managing Director of Impact Labels Brisbane, Mr Byron Hudghton, has come a long way from those very early days when he started out some 11 years ago as a small label supplier in metropolitan Brisbane. "I started in a small way and like many small businesses, I did the printing, selling – pretty much everything," explained Byron. "My history in the industry goes back 27 years, working for Supa Stik in Perth and then Assta Labels, where I became Sales Manager. It was then that I decided to start up on my own."
Initially, Impact was launched with an Iwaskai and then a Nilpeter FA 2400 was added, followed by a Gallus ECS. "We needed to upgrade and add extra capacity," said Byron, "so after reviewing a number of machines, we decided on the Omet X6. "The printing side of the press is the best in the market. It's registration and operator ease is all very, very simple. As a business, we are 90% label and 10% continuous film but I see the market going to more films – certainly for us. A short run in that market is 20,000m while a long run in the label market is 20,000m, so we see a bit of a niche there which the Omet fits absolutely perfectly."
Byron said the Omet X6 offered 440mm wide, produced 200mpm and had a set-up time of just 10 minutes. "The operators found it very simply to use and our decision on Omet was made for a couple of reasons.
"Having Currie Group as the Australian agent for Omet is certainly one reason and while the local engineer doesn't have specific Omet knowledge, he is going over to Italy to get that and we know we'll have a guy an hour away in the event of a breakdown. Plus, Omet's fault-finding service can now dial into the US or China.
"Harry is our Omet Operator running the X6. He was taken to Italy to see the press and he's been involved in the commissioning. He's been a valued operator for five years now and has stepped in to this role."
With a staff of 14, Byron's plans are to use the extra muscle the press brings. He said the company was very strong in food and beverage, private label work and do a lot of work in the meat processing business. "We've been kicking some massive goals and have expanded on that over the last four years. We would be a major player in this area and still see targeted growth in that segment.
"I believe our business model works well. I worked in the UK for a couple of years and I remember getting pats on the back for 6 or 7% margins. We don't operate like that in Australia, but you could say that the margin is never going to go up, so a lean business model works to your advantage..
"I am the purchasing guy; our artist does the invoicing; so we just don't have a middle layer of management, which means we don't have the weight of overheads some others have. Getting a bigger throughput with low overheads delivers an improved margin. I think it has also helped that I am a printer. I don't know how many owners out there are qualified label printers.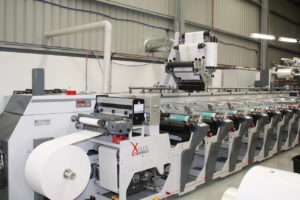 Asked what major changes he had seen since starting out Byron said one of the major changes was throughput." When I was at Supa Stick as a kid running a Kopack , if you got off 15,000m in a shift you were an absolute legend –over a couple of jobs. Now we would expect that done by 11am in the morning.
"The digital take-up has meant machinery – particularly flexo – has had to improve set up. Digital has more appeal in the short-run market, but from our viewpoint, a machine with the automation is the answer and today, what you set-up is what you get.
"Previously, there was more training and skill required in set up. There are plenty who'll talk to you for an hour about the lack of trade experience in the print shop today, but the reality is, that you can run things from an iPhone. It's been done by the design engineers and machine manufacturers, so that someone who has never used a machine like that before, can be producing pretty-good labels in a week."
Byron said he had a vision of continued growth and a business that would be completely automated from the start of the machine, through finishing, inspection – all digital – and that could be possible in the next couple of years.
Captions:
Main Pic: Byron Hudghton, MD at Impact Labels and his "do everything" team at Impact withe their new OMET XFlex X6 440mm.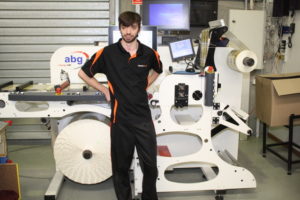 Pic of Guy at slitter: Byron said team members like Cameron at the ABG slitter, have kicked goals in the last four years.