Six years ago, Marrickville, Sydney printer DS Labels, owned by Deane Sproule, became the first Australian site for the Screen Truepress Jet L350UV, supplied through Jet Technologies. Now, they have upgraded to the latest L350UV SAI, with extra colours, higher speed and a host of improvements.
"What makes Deane Sproule's decision to trade in his original L350 for the new L350 SAI even more satisfying, is that, before it was out of the building — the six-year old machine was snapped up by Sydney's PDQ Labels, Paul Bentham and his team — their first digital press," says Screen GP Managing Director Peter Scott.
He continues: "Naturally, we gave it a service and renewed the printheads but it still speaks volumes for the reliability and durability of Screen equipment. It also shows what a great supplier Jet Technologies is — always putting customers' interests above all else."
Labels Plus was unable to attend DS Labels premises to record the installation of the L350UV SAI, due to the Sydney lockdowns — hopefully we will be able to do that sooner rather than later.
The Truepress Jet L350UV SAI brings a wider colour gamut to DS Labels, with the addition of Orange and Blue to the CMYK+W inkset. The effect, together with CGS-Oris colour management and CfX cloud-based matching, is stunning — the vibrancy of labels that reach beyond the boundaries of even the widest CMYK gamuts really does have to be seen to be appreciated.
"In a market where anything over 80 percent uptime is considered good – the real six-year data reveals that Screen label presses exhibit over 95 percent uptime"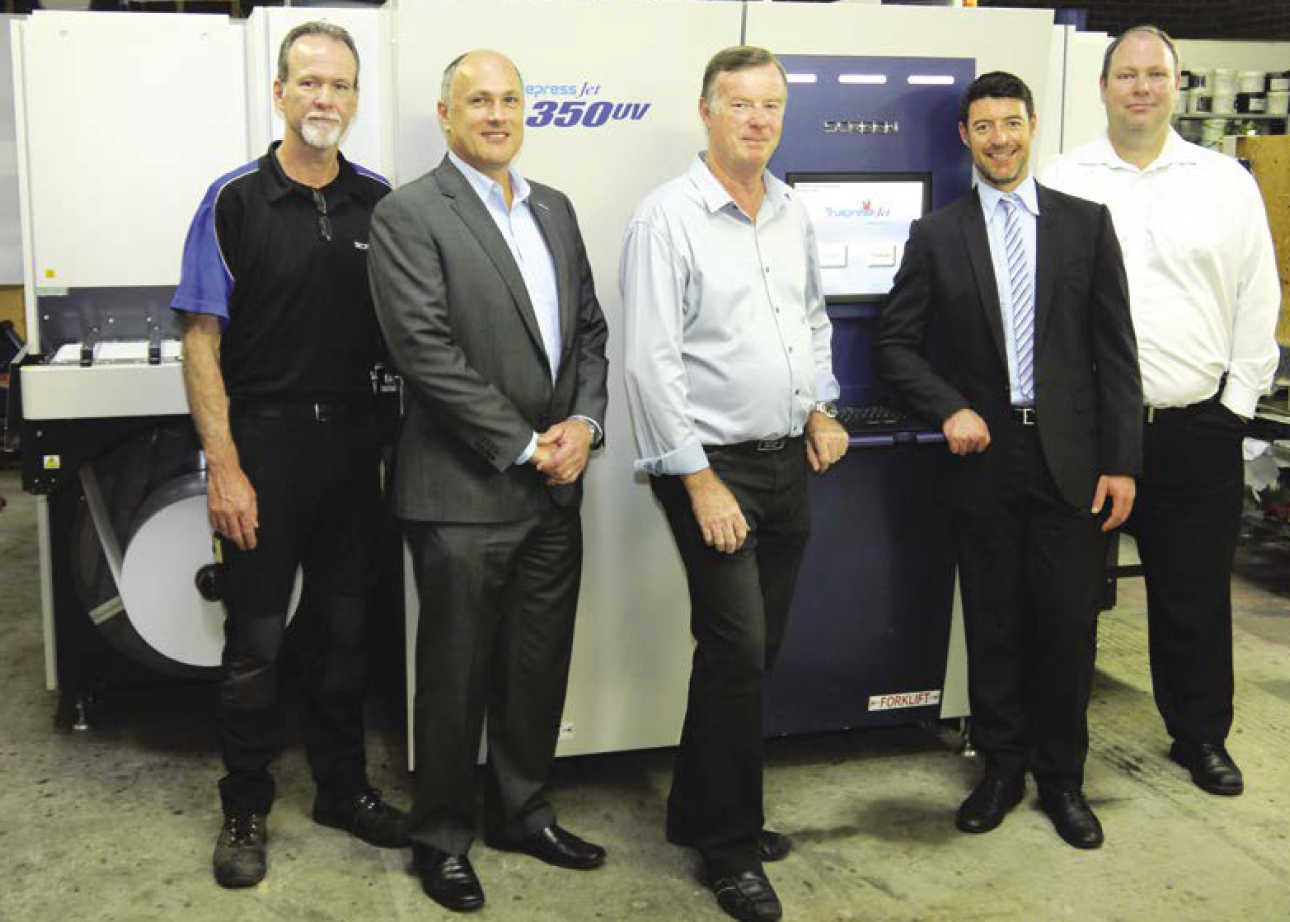 (L-R) Derek Field and Peter Scott of Screen GP Australia, Deane Sproule, DS Labels, Jack Malki and Darryl Wilson of Jet Technologies with the original L350UV before its recent upgrade to the L350UV SAI.
Highest uptime
Speed — especially when running white ink — has also been increased up to 60 metres per minute. Most digital presses slow down by up to half speed when running white, but not the SAI. Using unique white ink and lay-down technology, the L350UV SAI still runs at 50 metres per minute.
DS Labels' narrow web ( 350 mm) L350UV SAI is fullyoptioned with the seven colours, chill rollers for printing thin substrates, BST web guidance, Vetaphone corona treatment, web cleaning and extra curing UV lamps after the LED-UV pinning, which greatly improves ink adhesion at speed.
After seven years in the narrow web digital inkjet market, Screen — renowned for always erring on the conservative side of extravagent claims — has amassed accurate uptime data from over 200 installations. In a market where anything over 80 percent uptime is considered good — the real six-year data reveals that Screen label presses exhibit over 95 percent uptime.
Such uptime, combined with speed and colour quality, is why Truepress Jet L350UV users are staying with Screen when it comes time to upgrade or expand production.
A solid partnership
Jet Technologies' Managing Director Jack Malki comments: "We have an outstanding relationship with Screen — not just Peter and the team in Australia, but importantly with Screen Japan, where we have access to the people developing the L350UV series and working on the next generation presses. Screen has a solid, reliable team and without them, this partnership would not have worked. When you work with Screen, you know that whatever problem you encounter, that they are there behind you, working collaboratively to resolve the problem and improve the press."
Scott adds: "We have a UK customer who is on their fifth L350UV — a low-migration ink version — and their first one is  still very much in production. The company, Springfield Solutions of Hull, has just grown and grown and all with inkjet digital — they have no flexo or offset."
He adds: "We have another repeat customer coming up in the ANZ region and again, the traded-in machine has been sold before it has been decommissioned. So far in 2021, Jet Technologies has taken five orders for L350UV narrow web presses."
"Both Jet Technologies and Screen would like to congratulate DS Labels on having the first Truepress Jet L350UV SAI in Australia and we look forward to many more years of support to Deane's very successful business.