New digital converting solutions to be launched at the Brussels trade show
Moving towards mid-web with equipment specially developed to boost production efficiency
PRATI will exhibit 6 converting solutions with live demonstrations planned for trade show visitors
At this year's 40th anniversary edition of LABELEXPO EUROPE, PRATI is exhibiting 6 top-level solutions dedicated to a broad range of requirements from a fast-evolving market. Catering for the growing trend towards digital finishing and mid-web applications, PRATI is launching 2 brand new machines: DIGIFAST20000 and SATURN Digi. Visitors will be able to witness the speed, efficiency and high quality of these and other solutions at booth 5C41.
DIGIFASTone makes it easy to say 'yes' to more customers, whatever they are asking for.
Now in its fourth year, DIGIFASTone is proof that our engineering department targeted the benefits our customers were looking for: speed, flexibility, precision and efficiency. Compared to the costs involved with conventional finishing equipment, there is no expenditure on tooling, setting up a job takes little time at all and waste material generated for each batch is insignificant. A linear metre may appear to cost more, but this is not true. All this translates into being able to say yes to the most demanding customers and in the long run, save money by doing more business. Just-in-time printing becomes easy. Customer loyalty grows. Especially in a market where just-in-time business is becoming the norm.
Further benefits include extreme modularity. Optional modules can be fitted at any time and a digital embellishment unit can be installed for value-adding details. The machine can also become a hybrid solution by introducing a digital printer before, in the middle or at the end of the modules.
Tackling the mid-web universe with a new digital converting line: DIGIFAST20000.
One of the growing trends today regards packaging and the fast increasing demand for mid-web solutions. Listening to HP, PRATI has designed the DIGIFAST20000 to process mid-web requirements. DIGIFAST20000 matches, in semi-rotary mode, one single printing repeat of the HP Indigo 20000 letting the printers optimize the clicks cost. Cold UV curing technology grants optimal and cost-effective results on every substrates and job set-up generates zero waste material.
The greater the demand for flexible packaging, the more there will be a need to respond with digital solutions. DIGIFAST20000 addresses that need and integrates different technologies for PSL, IML, SHRINK SLEEVE, WRAP AROUND. 
Ultimate flexibility with the new SATURN Digi
Designed to provide the most flexible solution for digitally printed labels and films, SATURN Digi will be exhibited with a F/R Flexo unit and a 25.5" semi-rotary die-cutting unit. Built to allow integration of optional modules at any time, printers are able to invest according to their real needs, improving performance whenever required. The machine is smartly configured and paper paths are optimised to the finishing processes desired, from a die cutter configuration to an efficient slitting and rewinding machine, making the SATURN Digi a newcomer to be seen at the trade show.
The unique modular concept also enables converters to integrate the digital module into any of the existing SATURN slitter inspection rewinders, making the resulting equipment the only hybrid machine on the market ensuring single-pass finishing efficiency and quality, thanks to this easily implemented, future-proof upgrade.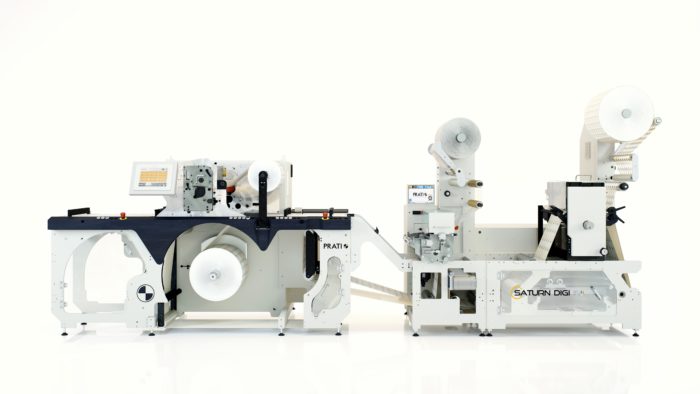 Moving your business forward with advanced converting solutions
Thanks to nearly 50 years of research and development of consistently innovative equipment, PRATI today boasts a range of high-performance equipment for countless market sectors. These include the stringent pharmaceutical industry as well as the security sector where SATURN Bidi offers failsafe camera checks, back numbering and a buffer enabling process acceleration when needed. Ideal for the beverage market with automatic rewinding for flexible packaging, the JUPITER 670 reaches speeds up to 400 m/min, features a motorised reel loader for large reels up to 1100 mm diameter and, thanks to its differential shafts, enables perfect reel tension control regardless of material type or machine speed. For the food and home care markets, where non-stop production delivers a competitive advantage, ALHENA, with its double stacker unit handling all label shapes and sizes, provides superb flexibility with a 28" die repeat for extra-long labels.
Inviting visitors to try out the company's solutions at the exhibition booth in Brussles or on an arranged visit to the Faenza-based production facilities in Italy, Sales & Marketing Director Chiara Prati comments: "We have seen our business grow beyond expectations in recent years. This is almost certainly due to our close understanding of market trends, collaboration with key players and an investment programme aimed at finding those innovations which lead to production efficiency, quality and consistent reliability. Our business is to MOVE YOUR BUSINESS FORWARD and that's why we feel we honour the 2019 LABELEXPO EUROPE motto."
Visitors will find PRATI at the Brussels tradeshow on Booth C41 in Hall 5 until Friday 27th September
Company profile
Since 1973, PRATI has played a leading role in the label finishing industry at a global level. Centred on innovation, quality and lifelong reliability, our aim is to empower our customers through cost-efficient solutions which enable a strong competitive advantage. By investing in new technologies and managing every step of the process, from design and prototyping through to installation and technical support, we ensure our customers benefit from tailored solutions for post-print finishing,  inspection, die-cutting, matrix stripping, rewinding, cutting and overprinting. With over 2,500 machines installed, PRATI operates at a global level with subsidiaries located in Europe, Latin America and since 2018 in Dallas, serving the USA and Canada. Discover more at www.praticompany.com