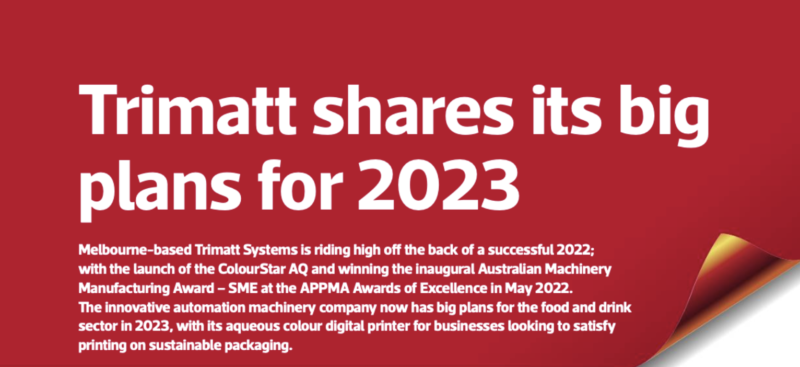 The Trimatt ColourStar AQ is a digital colour printer for sustainable paper, cardboard, sugarcane and even tote bags that provides a completely automated solution with an integrated feeder, conveyor and adjustable receiving tray. The versatile machine can print on flat or erected cartons and thick cardboard up to heights of 100mm – which the company says, makes it suitable for an array of applications. The printer can also be used for short-run, JIT production of high-quality printing of boxes, paper bags, coasters, serviettes and more.
Soon to be exhibiting at the Melbourne International Coffee Expo at the MCEC in August, the team at Trimatt is excited to launch its entry-level ColourStar AQ LT – a desktop redesign of the original for smaller spaces and limited product range.
The team also has a big surprise up their sleeves – a brand new machine for 100% home compostable sustainable packaging that will make its debut at the event. It's a first-time ever opportunity to catch a glimpse of this specialised system before it heads to its new owners.
Trimatt is now also providing sample prints for its Trimatt ColourStar UV, a compact CMYK UV print system for coated packaging, and a first-of-a-kind in Australia. Much like the AQ V, the UV has feeding capabilities, height adjustment, a Trimatt conveyor and clever collection tray.
In addition to the ColourStar AQ, Trimatt has also released the FoldLine 9000, designed for folding and gluing food tray sleeves.
ColourStar helps reduce lead times and win more business.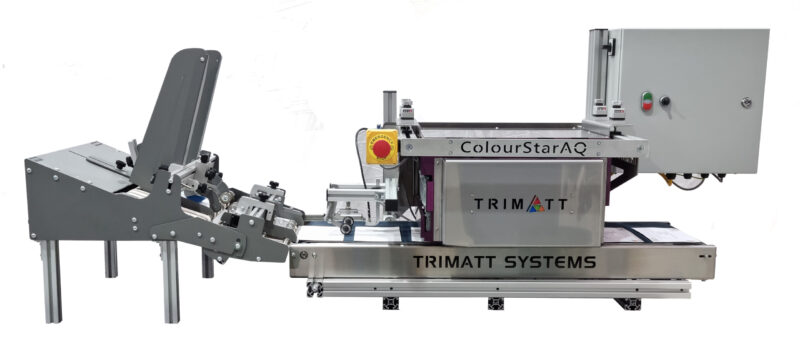 In the last six months, Trimatt has sold numerous ColourStar AQ machines, which Sales & Marketing Coordinator Mel McFarlane says correlates with the trend of companies being financially motivated to begin printing in-house. "The ColourStar AQ provides users with new opportunities adding value to paper and creating a revenue stream," she says.
"The Trimatt ColourStar is designed so that anyone can operate the machine with ease – from a pizza box manufacturer to a boutique food manufacturer, to an online food packaging company wanting to reduce lead times and win more business."
With single-use plastic bans now in place and the increasing sustainable mindset of consumers looking for custom-branded sustainable packaging, the Trimatt ColourStar AQ is delivering perfect prints, quickly and economically.
Perth hospitality packaging specialist MJ Goods, which provides a broad range of products and services, including food packaging, coffee cups, bags, bottles, shop supplies and catering boxes, recently purchased one of the machines to support the expanding requests of their customers. Owner and Managing Director Matt Marchese says, "The set-up time was really quick and operating the system is easy to learn, and that's coming from someone that has never used a printer before!"
McFarlane explains, "The HP print engine produces vibrant images using aqueous, organic, pigmented CMYK inks. Waterproof, scratch resistant and lightfast prints are produced at speeds of up to 27 metres per minute."
She adds that new markets are increasingly opening in food packaging for the ColourStar AQ machine. "Another strong market is coffee roasters, for their valved coffee bags and take-away packaging. Currently, food packaging companies are one of the leading markets for very good reason; this unique machine is so diverse in its applications."
Marchese says, "We have a range of customers in varied fields that would definitely like to customise products they use. For example, we supply coffee cups to several cafes and restaurants. This is going to be a big market for us.
"Across the board, the ColourStar AQ is helping all markets save significantly on their package printing costs by giving them the ability to fulfil their own packaging needs, on time, with fewer storage needs, and with ease," observes McFarlane.
The printer prints on pizza boxes, clamshells, takeaway food trays, cake boxes, zip lock bags, paper bags, boxes, beverage cup sleeves, beer carry boxes, shippers and coffee bags with valves with ease. Any reasonably flat, uncoated paper or cardboard product up to 100 mm in height can be printed on.
"As an HP OEM, no stone has been left unturned with the development of this machine. Working closely with our customers and understanding their businesses, we have really created a product with vision and versatility," McFarlane adds.
Marchese confirms, "With the capabilities the Trimatt ColourStar AQ gives us, we can greatly expand what we can do for our clients. I'm really excited about the possibilities this gives us. In fact, I'm almost certainly looking at adding another system because I know the demand is there."
Orkun Bayhan from printed bag specialist Ausbag in Melbourne, recently had Trimatt install the printhead onto one of his flexo offset lines. The company now uses the machine as the primary printer for paper bags due to the quality, ease, and speed of the set-up and printing.
FoldLine completes the full brand experience
Trimatt Systems has a raft of solutions in automation machinery, and with a strong engineering team has a solution for every problem.
The FoldLine 9000 is a premium automation machine that feeds, folds and glues ready-made meal sleeves and any other cardboard wrap-around labels for food products packed in trays, providing the customer with a full brand experience. It also folds and glues food packs for takeaway sandwiches, cup sleeves and many other food packaging items.
The machine has been designed with an extremely small footprint at only five metres in length. With incredible speed, it can produce 20,000 glued folded sleeves per hour and is fully customisable to suit specific variable needs. This compact machine operates seamlessly with precision and optimal performance, Trimatt says.
Inkjet printing and camera inspection can be added to print and read unique QR codes, barcodes and text. A labeller can also be added for particular promotions, to help satisfy even more market opportunities. Waste reduction and increased output are significant features of the add-ons.
Adding value to finished products, this versatile system is used for many markets such as FMCG, financial, retail, bindery and fulfilment, magnet, self-mailers, gift card and greeting card applications. It offers the finishing capabilities that make printed products stand out in a crowded market.
With a digital printer and ValidForm variable data reader added, the FoldLine 9000 can also ensure an application is error-free by reading and collecting unique data from printed media, and monitoring in real-time the performance of the printed job, while checking for missing records, duplicates, mismatch and poor quality.
McFarlane says, "The recent sale of a FoldLine 9000 to one of Australia's leading food packaging machinery companies was so rewarding. It gives the company the capability to fulfil large-scale orders cost-effectively and with a fast turnaround, keeping Australia competitive in the market. Contributing to and strengthening the Australian manufacturing economy is something Trimatt is very proud of." LP
Trimatt Systems has again been recognised as a finalists for the MICE Product Innovation Awards 
The MICE Product Innovation Awards recognise the best innovations from exhibitors at the Melbourne International Coffee Expo in 2023. Three lucky exhibitors will be rewarded for the originality and uniqueness of their products and technology.
Coffee accessories – the finalists for this category are:
– The Good Cup by Roastar Coffee Packaging
– Trimatt ColourStar AQ V by Trimatt Systems
– BioPak Certified Home Compostable Coffee Cup and Lids Solution by BioPak
VISIT THE TRIMATT STAND AT THE MELBOURNE INTERNATIONAL COFFEE EXPO, MCEC, AUGUST 17-19