New web inspection systems from Aldus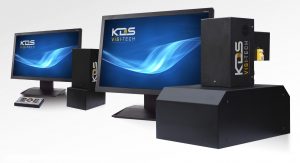 The sales of the Kingston Data System / KDS video inspection systems have taken a giant leap with the introduction of the new Visi-tech iSeries web inspection cameras.
Whether your need is for a basic web viewing system or a highly functional programmable system to compliment a new high speed machine, the Visi-tech iSeries is an ideal choice for the quality conscious printer. The superb high definition image combined with high magnification optical zoom lens and exceptional viewing area makes the iSeries stand out from any competition.
Every part of the iSeries system is built to the highest standard and with the highest specification in its class, so the client can choose from a selection of cameras, traverse mechanisms, controls, software and advanced options knowing that they will get a top quality inspection system that suits almost any inspection requirement.
The i20 is the ideal system for narrow web machines. With its specially designed light chamber and fixed 90 degree camera rotation the i20 achieves a very large 130 x 100mm field of view in a compact size. Available with manual or motorised traverse.
The i40 is Dual Strobe camera suitable for wide web or for narrow web application. With rotatable camera orientation 130 x 100mm field of view and dual colour corrected xenon strobes the i40 offers excellent flat lighting and flexibility for all viewing applications.
The i80 is the ideal choice for high quality wide web inspection. It provides the user with an extended 190x150mm field of view illuminated by Quad xenon strobes. When combined with a user friendly touchscreen and iSeries pro software, the i80 Pro will satisfy the most demanding inspection needs
All KDS vision systems are manufactured in Australia ensuring quick delivery of orders and rapid response for spares and service from Aldus.
For more information contact the nearest Aldus sales office or email aldus@aldus.com.au