The theme of the company's recent conference, which included staff members from across Australia, was 'How to WOW' – following on from their previous 'DIGI-WOW' campaigns that promoted the digital capabilities of the group and coinciding with the installation of their HP Indigo 6600 Digital Press.
That campaign – and the press – have proven so effective that the company has now added to its digital print capacity with the installation of a second HP Indigo digital press – this time, the HP Indigo 6K model – and has also expanded and streamlined its label finishing and embellishment options with an ABG Digicon Series 3 finishing system, both from Currie Group.
According to Lindsay Nutley, Business Enablement Manager for QLM, these recent investments continue the company's commitment to top-of-the-line production facilities to meet market demand. "Many of our clients operate in a space which demands premium embellishments, photographic image quality with deep blacks and consistent quality," Lindsay explains. "We need to deliver innovative solutions at the highest quality standards, with speed to market and at an economical price point. The new press and finishing line will allow us to deliver that WOW experience, with sustainable business practices which respect the skill and technology that go into producing a quality product."
Mark Daws, Director – Labels & Packaging ANZ for Currie Group, explains that the HP Indigo 6K Digital Press is an exceptionally versatile, seven-colour machine which offers the flexibility to handle a vast range of applications from labels to flexible packaging.
"It's highly productive and offers unsurpassed print quality using HP Indigo's unique electrophotography printing technology to image to a diverse range of substrates, and makes use of the latest production efficiencies to meet the requirements of a truly 'on-demand' market – in short, it's ideal for a busy operation like QLM," he says. "Operationally, these investments are about lifting our efficiency and capacity, and make good on our promise to deliver, and deliver professionally, for all our clients," explains Jeanine Sheppard – Operations Manager.
QLM's press operator at the controls of the new HP Indigo 6K Digital Press at QLM.
 It's rare to find a company as focused and excited about the future as QLM Label Makers. With a clear direction, articulated at its recent sales conference in Melbourne and two new flagship installations at its Moorabbin label factory, there's plenty of WOW factor ahead for the company which celebrates its 50th anniversary this year.
"The HP Indigo 6K Digital Press is quite clearly the market leader in the digital label production space," Jeanine says.
"Our first machine performed flawlessly and enabled us to build our digital label business to the point where it was fully utilised over two shifts. This new press effectively doubles our capacity to cater for the growing demand in low- to mid-length runs and multiple SKUs and we anticipate that both machines will ultimately run a double shift with a printer and assistant overseeing both presses."
Complementing the digital printing capabilities is a new ABG Digicon Series 3 line, which joins three smaller Digicon systems at the Moorabbin plant.
"The new machine is a flagship model which takes full advantage of its modular design to provide a completely in-line, one-pass solution for hot foiling, lamination, hi-build varnishes, creative embellishments and die cutting – all with superb accuracy," Mark Daws says. "It's the ideal solution to provide versatile, efficient and profitable finishing for high quality short or longer run label jobs."
Jeanine agrees, saying, "the new Digicon allows us to create a range of finishes and embellishments in a single pass, greatly enhancing efficiencies and allowing us to make the best use of our resources, including staff in what is a tight and challenging labour market.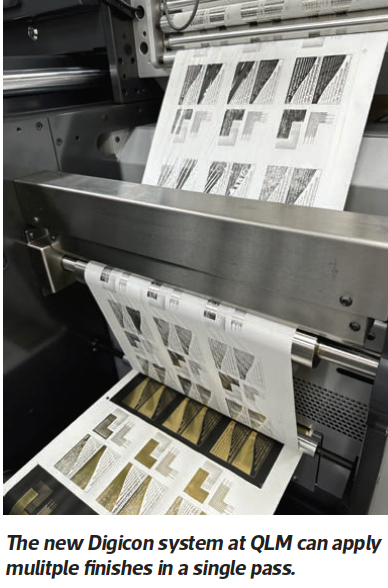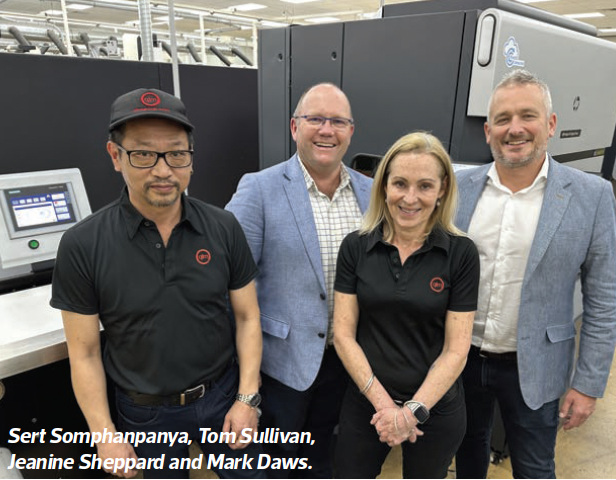 "We simply can't afford to waste resources whether that's people, paper or machine time. The new, fully-integrated line offers almost instant set-up and makeready and efficient, inline operation with minimal waste, effectively increasing our team's output capacity while ensuring the consistent, precise finishing our customers expect," she adds.
While the performance of both machines put them firmly at the top of QLM's wish list, there was one major factor which sealed the deal – the service and support provided by Currie Group.
"Currie Group is a strong and reliable partner for our business, and we know we can rely on them to provide the support we need to keep our production running optimally," says Tom Sullivan, Group CEO.
"These latest investments provide us with the capacity and flexibility to deliver the innovations which will support our existing customers and attract an even wider range of customers to grow our market. But it's the expertise and support provided by Currie Group which gives us the peace of mind that we will be able to consistently deliver on our promises."
As for the future, there are plenty of exciting developments in store. This month, the company will consolidate all its heritage brands – Labels, Flexibles and Packaging – under the QLM moniker, in a move which underlines the synergy of vision and purpose across its various operations, and the company is also working on concepts for new facilities.
"QLM has built a solid foundation over the past 50 years, and our team is reinvigorated, re-equipped and excited to meet the challenges of the future as we continue to deliver on our promises," Tom says.