Sydney, December 13th 2019 – Screen has extended its reach into flexible pouch production with its Truepress Jet L350UV+LM (low-migration ink) used for food safe short-run stand-up pouches. The first installation is to a UK label printer, Hine Labels, who was already using the Screen press for labels. The move into pouches, under a new division named www.houp.com, will expand its application offering into a fast growing market where standable pouches and sachets are being printed and filled with a wide variety of foods, liquids and FMCG products.
Hine Labels purchased the Screen L350UV+LM in 2018 due to its low migration inks, which are compliant with the strict safety standards of food labeling and packaging. Hine then found the press's high uptime, reliability and quality in combination with the industry leading productivity of up to 60 metres per minute, made it a good investment, which is now set to return even higher dividends.
Bill Hine, The Managing Director of Hine Labels says: "It was a logical decision to apply our existing Truepress Jet L350UV+LM to digitally print pouches. With its low migration inks, the press is perfect to produce premium pouches that are compliant with the strict food safety standards. This allows houp.com to differentiate its offering and enjoy a new and exciting revenue stream."
Hine continues: "We have identified a gap in the market for digitally printed short-run pouches. Our clients are looking to achieve professional packaging without the commitment of ordering larger volumes, and they are looking for multiple applications from the same provider. The Screen Truepress Jet L350UV+LM allows us to move into various different markets in order to satisfy our customer-base and the ever-demanding needs of a competitive market."
Peter Scott, Screen GP Managing Director for Australia and New Zealand, notes: "We have been working on pouching solutions for a while now and the level of interest is escalating. The key is combining the short-run benefit of digital printing with a converting line to laminate and make the pouches. These lines are readily available from manufacturers such as Karlville, Uflex and others. A variety of closures such as zip-locks, vent valves (for coffee) and spouts can be built in, when the pouches are ready for aseptic filling and sealing. The L350UV+LM is ideal for pouches because of the food-safe inks and ability to print a 700mm wide PET or other roll, already seamed on one side by folding it to 350mm and printing both sides."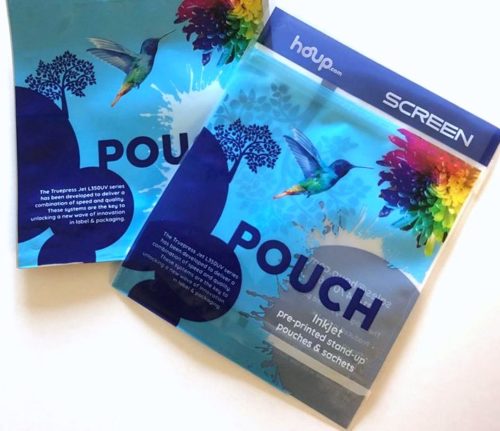 Pouch packaging of food and drink was originally developed by the US military and NASA for servicemen and astronauts and is now finding wide consumer acceptance and shelf appeal as a way of packaging foodstuffs cleanly and securely. 
Scott sees it as a powerful new direction for label producers, with the short-run benefit of digital bringing 'big brand' marketing to SME producers: "There is one case of a small manufacturer of 16 kinds of fragrant bath salts moving to digitally-printed pouches and selling them through Amazon online, with excellent sales worldwide. This is just one of the opportunities offered by Screen Truepress short-run pouch printing and converting – as well as labels of course!"
ENDS
Captions: 1) Hine Labels Bill Hine (L) with houp.com's manager Richard Warne and the Screen L350UV+LM press. 2) Just a few examples of digitally-printed pouches and sachets.
About Screen
SCREEN GP Australia Pty Ltd is a subsidiary of SCREEN Holdings Ltd, (Nikkei 225 Index No. 7735) one of the world's largest manufacturers and suppliers of technology for the printing and pre-media industries. Its large range of equipment includes digital printing presses, grand format UV printers, digital label presses, workflow systems, RIPs, proofing systems and CtP platesetters. The company is also a well-known manufacturer of equipment for the semiconductor and flat panel display manufacturing industries. Screen GP Australia Pty Ltd was established in 1987. Website: www.screenaust.com.au