New premises, a new company name, and a host of brand-new digital equipment, means that a lot has happened since "Labels Plus" last spoke to what was called Avonlea Labels in Sydney. Readers first met Mike Ellis when the magazine was in its early days, and like many other people, he had pulled-up roots in South Africa and struck out for Australia in search of a better life.
Mike had been a printer in his homeland and when he and his family bought a home in Castle Hill west of Sydney, he started his first machine up in his garage!
Mike had a son named Matt, and during that first interview, Matt was there – just entering his teen years – but helping where he could. Today, Avonlea Labels has had a massive change – just one being a name change to Luminar. Mike (whom readers may recall as a very keen cyclist), has taken a back seat after Matt purchased the company in mid-2017 and assumed the role of Managing Director.
"Labels Plus" asked Matt about the journey in those intervening years after we met the new South African arrivals? "We relocated to Riverstone after running out of space at our Castle Hill location, within a couple of years," said Matt. 
"When considering our next move, we didn't just want to move into something that would suit our needs today, but premises with enough space for us to grow. It was also important that our team and our customers could physically see the growth potential we'd allowed for."
Matt said the company now has around 1200 sqm in total, and is changing in leaps and bounds to get ahead of the digital packaging market. And that drive has involved purchasing some new equipment.
"Our first serious piece of digital equipment was a refurbished HP Indigo WS4500 and we did our priming on a Digicon. At the end of the 2016/17 Financial Year, I purchased an upgrade and went with the Indigo WS6800 which had an in-line priming unit."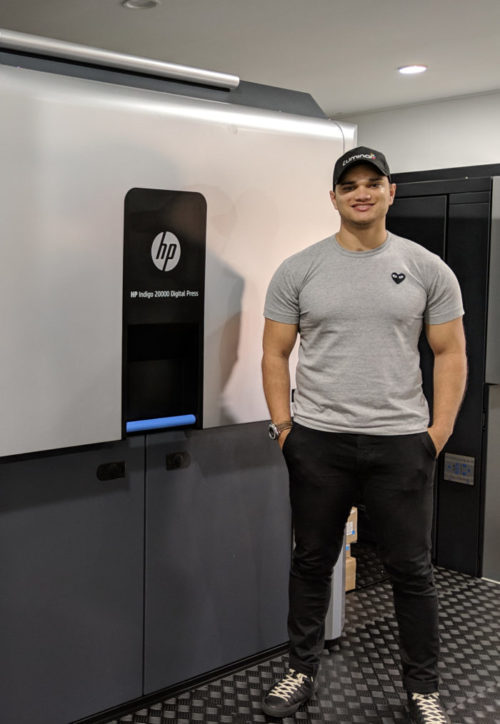 He said he had become very interested in the flexible packaging market and what it had to offer. "Even in its infancy stages, I thought there was definitely an opportunity to fill a gap in the market." To achieve that goal Matt decided to continue with Indigo and the purchase of an HP WS6800 "We built some strategic relationships in the flexible packaging industry and for a while that led us on a steep learning curve in the flexible packaging space, but we've been able to fill a sorely needed gap and it gave us an opportunity to learn a lot about flexible packaging." Matt said today, flexible packaging makes up about 20% of their business. 
Realising they were still undertaking a learning curve in the flexible area, Matt said they called on a lot of experts to help bridge the experience gap. "We have relationships with guys in the shrink sleeve market as well as pouches to guide us on any expertise we may lack in-house. Now, we are quite confident in our ability to scale and service these markets."
Looking to the future, Luminar's next big capital investment is its HP Indigo 20000, and we asked Matt what led to that decision? "We saw the rapid growth in flexible packaging as a percentage of our business, which was obviously catering to a need in the market," he explained. "We have come to know the activity in digital flexible packaging currently quite well and believe there is an opportunity. We believe we can add a lot of value, not only to the end-user but also to the flexo houses, that don't want to do 20kg or 50kg of rewind per SKU. I'm sure they would rather cater to their core strengths to maximise their equipment uptime, rather than spending half the day on set-ups. So we can offer them a lot of value. 
"To date, around 60-65% of our business overall, has been undertaking work for other trade houses and I don't really see that stopping any time soon." 
Mark Daws, Director – Labels & Packaging ANZ at Currie Group said: "We would like to congratulate Matt and the team at Luminar on their latest adventure in digital printing. The paradigm shift taking place in flexible packaging, is something that Luminar recognises and aims to play a role in. It's amazing to feel their energy and we look forward to working with the team moving forward." 
Matt added that the installation of the new press will open-up a market for Luminar to service co-packers who need 400mm wide and larger. "With the HP 20000 we can go as wide as 762mm with a print width of 736mm and that gives the co-packers and our end-users, an opportunity to better leverage off the digital flexible packaging product. Currently, we can print 330 wide with a maximum print width of 320mm which has limited us. 
"So we'll be able service many markets, some of which include: snacks; roasted coffee; pet food; nutritional supplements; confectionery; frozen foods; health & beauty; lawn and garden; and the like. The rationale we have always used when purchasing new equipment is that it enables us to say a lot more yes's than no's. And with the 20000 we'll be saying a lot more yes's, that's for sure." 
Luminar has expanded its workforce to 16, with two Indigo operators working two shifts at present, as well as two shifts on the converting equipment. "What we want to do," said Matt,  "is to continue running two shifts on the HP 20000 and the operators will both be formally trained, as will our pre-press department.  Our new finishing equipment allows us to split our flexibles and labels production lines, which allows us to reduce our lead times and narrow our focus."
And how does Matt see 2019? "I think it will be a fantastic year, full of growth, challenges and innovation," he said.
Pic captions:
Matt Ellis, MD at Luminar with the newly-installed HP Indigo 20000 which he expects to spear-head an important new market in wide, dry product packaging.
Pic: 3 men at press 
Mike Ellis, founder of Avonlea Labels in Sydney, (left) Mark Daws, from Currie Group and MD of the renamed Luminar, Matt Ellis at the HP Indigo WS6800 digital purchased in 2017, which said Matt, launched the company's reach into the flexible packaging market where they saw a niche.