When GMS Pacific (GMS) announced it would be representing Domino digital label presses, including the next-generation N730i UV label press, it meant that Australian and New Zealand manufacturers would now have access to what many experts say is, "The best UV digital Ink jet press in its class". It is in every sense, a 'game changer' for the local market. Already, the Domino N730i has started to achieve significant sales across Asia, Europe, and US, purchased by label producers long associated with other 'big name' digital press manufacturers. The question now is – with the N730i headed to our shores – will we see Domino presses challenge the status quo in the ANZ region?
"We believe the Australian labels market has been starved for choice regarding high-quality digital press solutions," says Andrew McNamara, MD, GMS Pacific. "Domino is a well-known and respected name in the ink jet / variable data world, with over 40 years' experience in the ink jet printing market. The Domino philosophy is not just to build a printer, but to develop the most productive printing press for the customer. The software and the technology that wraps around the printheads and the build quality of the pressse are just some of the qualities that make these presses stand out, and why they are making significant inroads across the US, Asia, and Europe."
GMS is now the full-service distributor for Domino presses, handling all capital sales, installation, servicing, and maintenance, as well as supplying all spare parts and consumables. The agreement covers the Domino Digital Printing range which includes:
* Domino N730i – 1200 dpi full colour digital ink jet LABEL/ narrow web press range n * Domino N610i – 600 dpi, full colour digital ink jet LABEL/ narrow web press range n * * Domino X630i – 600 dpi, full colour digital ink jet CORRUGATED sheet fed press range
* Domino K600 – 600 dpi monochrome (B&W) ink jet printer range.
To support its customers, GMS has brought on factory trained engineers and will handle all the service and maintenance requirements for all presses. The framework is in place for what GMS anticipates will be strong uptake of the press, especially once leading local manufacturers see what the press can do and the benefits it can deliver.
Domino had already achieved incredible success with the Generation 6 press, the N610i. Globally, the company has delivered over 1000 installations. The N730i is designed to take the digital technology to a whole new level, becoming what is arguably the best label press of its kind.
The N730i is a Generation 7 technology platform running the completely new BITSTAR™ 1,200dpi printhead. This state-of-the-art technology, primed with unique technical features, pushes the possibilities of digital ink jet output to deliver precision print quality at an optimal speed of 70 metres per minute. The BITSTAR™ 1,200dpi printhead combined with Domino's 'i-Tech' features, makes this a press that is, 'Built to Print … and print … and print!'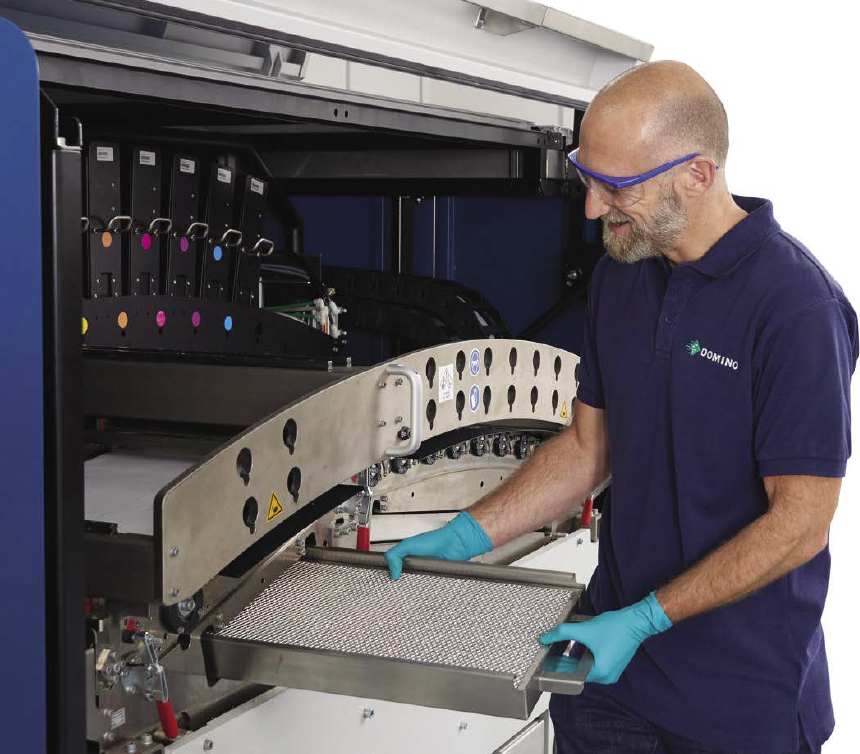 Domino's enhanced i-Tech Intelligent Technology features deliver improved efficiency, use, function, and reliability, leading to increased output and investment return. These include the automated maintenance from i-Tech CleanCap2, consistent print density and registration from the new i-Tech SetAlign, optimum ink jetting reliability from i-Tech ActiFlow2 and exceptional print quality with i-Tech NozzleAdjust.
"To understand how Domino has been able to make a label press able to perform like the N730i, you have to go back to 2015," says Andrew. "In 2015, Domino was acquired by Brother Industries Ltd, a global giant in the ink jet printing world. The purchase gave Brother an entry point into the industrial digital printing market. Brother allowed Domino to continue as an autonomous business unit within the group, with the benefit of accessing its financial muscle, and huge innovation capability. With Brother's support, innovation and knowledge, they developed the proprietary BITSTAR ™ 1200 dpi printhead. This printhead gives Domino autonomy and control of their future and their future innovations because the heart of their press is not controlled by a 3rd party supplier."
For a press with these performance capabilities, it must run an ink set that is just as capable. Developing such an ink was the result of collaboration between the skilled engineers, chemists, and technical specialists at Domino and its colleagues at Brother. This collaborative team of expert chemists designed, developed, and specifically tested the UV91 ink set in its research laboratories to ensure optimum performance in the N730i. Providing exceptional print output and excellent resistance to heat, cold, sunlight, chemical, and saline attacks, as well as abrasion, this specialist ink set maintains exceptional print quality throughout the life of the final product. In addition, the N730i prints solid white at 76% opacity, a near silk-screen alternative at 70 metres per minute. The capability to also create digital textured effects provides labels with enhanced shelf appeal.
The Domino N730i has the ActiFlow2, engineered to provide full ink circulation throughout the entire ink system, including the print head, minimising bubbles, and contaminants. The SetAlign innovation, automatically and precisely aligns the print heads and trims the voltage evenly across the entire print bar, resulting in exceptional print quality, every time. This is run in conjunction with NozzleAdjust. When a missing or deviated nozzle is identified, they can both be compensated using the automated NozzleAdjust feature, extending the in-use lifetime of print heads in conjunction with delivering consistent print quality at high speed.
"The new Domino N730i presses provide exceptional quality, reliability, productivity and economics. This is a new technology platform built on 40 years of knowledge and experience, that delivers a significant alternative for the market to consider. The Domino VDP is second to none, as variable data is their background. In addition, the presses Sunlight editor seamlessly integrates with either Esko DFE or Hybrid workflows for maximum efficiency and an intuitive User Interface."
"Through our partnership with Domino, we can bring our customers the very best in UV digital label press technology," says Andrew. "This new technology provides superior value for our customers, giving them a competitive advantage." The goal for GMS is to bring one of these incredible label presses to their demo room at GMS headquarters in Victoria.
"Once our clients see the press in action and what it can do, we know how popular it will become. We have already seen this happen in Asia, Europe, and the US," says Andrew. "A significant number of large label manufacturers based in those regions have now invested in the Domino press. What makes this significant is that these producers have all previously been operators of other well-known digital presses. We are planning on having the Domino N730i press available for testing in our demo room. We look forward to showing the press to label manufacturers in Australia and NZ and seeing their responses."
When the press arrives, it will make available the very best in digital label press technology for customers in Australia and New Zealand. By delivering a press with capabilities that can exceed those of the current 'big name' brands, GMS Pacific and Domino, are going to rock the status quo."
For more information about the Domino label press technology, please visit www.gmspacific.com or call  T: +61 3 9535 9777