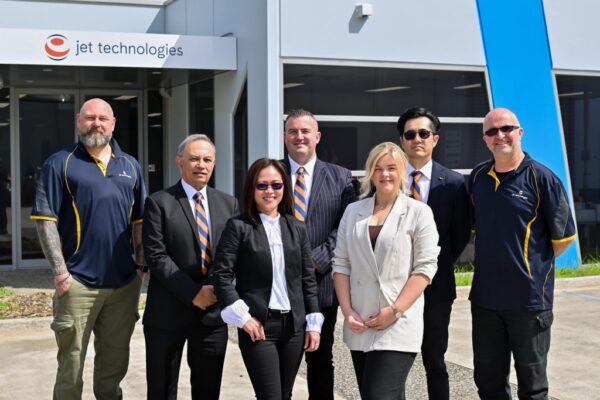 Jet Technologies Victoria staff (from left to right): Mike Rogers (storeman), Ruvan Weereratne (Technical Account Manager), Marifel Dela Calzada (Ink Technical Representative), James Montgomery (Product Manager Inks), Alyssa Harding (Business Development Manager Packaging), Aeson Lau (Product Manager Adhesives), and John (storeman)
Jet Technologies has expanded into its new, substantially larger Victorian headquarters at 7 Yazaki Way, Carrum Downs. At 4,000 m², the new site is almost three times larger than the company's previous premises. The move allows the specialist supplier for the food packaging, industrial manufacturing and print and finishing industries to stock a wider range of products, enabling it to better serve its Victorian clients.
"It is no secret that the past three years have been extremely challenging with regards to supply chain reliability and during that time, local stock has been a saviour for many clients who were themselves operating under extreme workloads," notes Jack Malki, Director, Jet Technologies. "The new facility enables a wider range of products to be stocked locally, ensuring safety with supply continuity during whatever circumstances may arise.
"Importantly, we have also established a state-of-the-art ink laboratory in Melbourne, again to ensure that localised service is available for our clients."
A demo centre is also being established at the facility, enabling Jet Technologies to demonstrate a wide range of equipment as they have done for numerous years in Sydney.
"The message is simple: Jet is committed to the Victorian market and continues to invest in local services to support the growth of clients," adds Malki.