When Insignia in Brisbane looked at their needs for the future, and reviewed what equipment would be required in the years ahead, it was a team effort across all fronts. Head of Manufacturing, Stephen Lindsay, joined with Technical Sales Manager, Howard Gill, and with Jeff Bint, Insignia Executive General Manager, who had over-arching responsibility.
As Stephen explained: "About 18 months ago, we started looking at what we needed to do to develop the business going forward. This included a review of both digital and flexo technologies. We investigated the options in the market and the impact the various technologies would provide for the work we do. Our multi-colour flexo presses, whilst producing excellent quality product, were at a point where we needed to add to our current capability. In addition to the multi-colour work we do, we convert large volumes of plain to two-colour work. To support the growth we have been achieving we needed to add to our capability and capacity for more multi-colour work. To that end we conducted a detailed analysis of the benefits behind each of the technologies.
"When our specific business needs were considered, the flexo option was preferred.
After engaging with various flexo press manufacturers and reviewing submissions, for a number of reasons the OMET XFlex X4 was chosen. Howard agreed with Stephen: "Our first decision was to select which converting process we would go with. We concluded that for the specific needs of the business, flexo was the way to go. We invited proposals from a number of suppliers and evaluated each of these.
"We compared specifications, efficiency improvement options, quality and innovation.
Then came the commercial package consideration and finally, brand reputation and local support."
Jeff explained how each of the suppliers were invited to make presentations to the Insignia team. "Once the key options were aligned with the needs of the business, the decision to award the business to OMET was relatively straight forward. We've had strong growth over the last couple of years and this latest investment is a continued commitment to the growth demand and secures sustainability for our customers.
"It's not just a transition to new equipment, but a commitment by the owners and directors of the business, that we remain a significant player in the label industry. It's critical that we continue to invest in both technology and innovative solutions."
"From ordering the press and its arrival, there is a process involved and OMET and Currie Group did this very well," added Howard. "We configured the press to our requirements, they double-checked everything, and the technical support, including assistance with ancillary equipment was all very helpful and the acceptance testing went very well."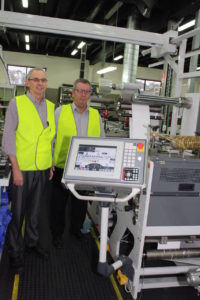 Pic caption:
Two of the project team at Insignia, that selected the OMET X4 were Stephen Lindsay (left) and Howard Gill.
Howard commented on the acceptance testing that was carried out in Italy. "It was a very thorough process.
All press functions were thoroughly tested and approved, so we came back very confident that the machine would perform to expectations."
Stephen said the OMET XFlex X4 has performed very well. "The installation went very well; as did training our printers, who are very happy with the new acquisition. We have a number of printers who have previous experience with similar technology, some who hadn't, but they have all enjoyed learning and operating it. The new press is housed into its permanent location. This now allows us to relocate other assets into our Melbourne manufacturing facility."
Jeff added that the new OMET will offer new opportunities for the highly successful label printer. "We have certainly had growth in the traditional markets in which we operate, but the new press will allow us to delve into a broader segment and to work with customers to provide an expanded product solution."
"Currie Group is thrilled to welcome Insignia to our customer base, with the purchase of their OMET XFlex X4 press," commented Mark Daws, General Manager ANZ Labels & Packaging Division at Currie Group. "We worked very closely with the team at Insignia, in order to implement a smooth installation, which included the planning of trials and accompanying Insignia for the Factory Acceptance Tests at OMET Lecco, Italy.
"We take every machine installation seriously, and look to mitigate any concerns prior to a machine arrival, to make the installation and training programs seamless. We would like to thank the team at Insignia, for their professionalism and diligence which in turn helped to facilitate a successful installation. Currie Group very much looks forward to working more closely with Insignia in the future."