Presenting itself as a powerful marketing tool, in addition with a safe protective wrapping, "Shrink Sleeves" have been widely accepted by brands resulting in its steady growth in the last few years. Identifying this as a great opportunity, the 70 years old Arca Etichette Group has entered into supplying high quality, sustainable shrink sleeves via its newly formed subsidiary Arca Sleeves. "We offer our customers with highly customizable shrink sleeve solutions capable to adapt to any format or application with a key focus on design expertise, material know how, high quality printing and quick on time delivery!". The company management talks about its success mantra in this interview.
What is the vision of launching Arca Sleeves and what have been some key milestones in the journey so far?
Arca Sleeves was launched in 2015 coming out of our successfully established Arca Group which has been in the market since 1948. The vision of the company is to offer "shrink sleeves" labels to the market in addition to our current offering of self-adhesive labels, multipage and labelling systems which we have a strong reputation of serving the market for over 70 years! 
In the early days, printing of shrink material, was done in Arca Etichette facilities while post press operations such as tubing, cutting and packaging was done by Arca Sleeves. Since then the company, Arca Sleeves, backed by excellent response from the market, has quickly risen to become an independent, well established specialized supplier of shrink sleeves labels in the market! It was this early success that led to our decision to install the first state of the art, OMET X6 430 printing press in 2017 and bring the complete manufacturing solution under one company, allowing us to supply materials with better efficiency and effectiveness to our prestigious list of clients. 
What was the key motivator which led to the decision of brining "All operations under one roof"? Was it driven by strategy or economic reasons?

Our strategy for growth was to supply our customers with the topmost quality shrink sleeve labels in the quickest possible time, which required a direct control of all production phases. It was this strategic choice which led us to bring all operations of pre-press, press and post press operations under one roof. Even though we are a completely independent unit now, we count on the "support" of the parent company for any exceptional request of our customers or when we are full in capacity due to peak demand.
The success of your company largely depends on the growing demand for shrink sleeve labels. What are the reasons for this growth in demand?
The shrink sleeve labels have the following advantages
Allows greater coverage of the product's surface (bottles, jars, etc)
Has wider space available for texts and graphics, especially for irregular shapes

 

They are a great marketing tool or innovative marketing activities!

 
In addition to the above, the shrink sleeve also provides an added security features, that of a seal. Whether the sleeves are printed or neutral, covering the whole product or just the cap, shrink sleeves always guarantee the originality of the content from tampering and hence raises the safety image of the product.
 A nice shrink label of ama_te printed by Arca Sleeves.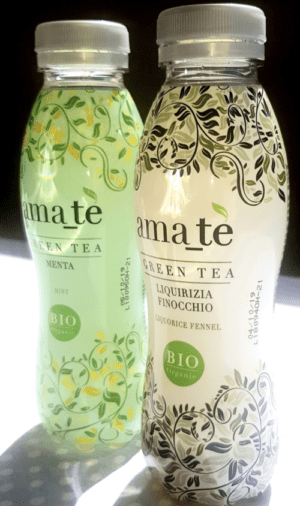 Shrink Sleeves are now used by all major brands for their products. What do you think is the key factor of success for this once "Niche Product"?

Let's say that, like all innovations in the packaging sector, even the shrink sleeve needed 'someone' who believed in developing and spreading this solution. The manufacturing companies, their marketing, the market in general, did the rest, bringing the sleeve from a "niche product" to mass consumption.
However, sleeves are offered by many competitors, how has Arca Sleeves established itself as a unique player?Assuming that, by now, quality is for every customer is a 'sine qua non' condition in an increasingly demanding market, we entrust our growth to "specialization". Our focus, and the core business of Arca Sleeve is the exclusive production of shrink sleeves. We manage hundreds of new projects every year and we stand out for the speed and the expertise in the design phase, which is the most important phase for the success of any industrial supply of 'sleeves'. In a matter of a few days, we can bring to our customers' desks a fully finished industrial samples, printed in digital, hence reducing the time to market for any new product idea or innovation. 
Another competitive advantage for us is the short lead-time for deliveries, thanks to the great expertise and flexibility of our team, composed by people who believe in our company, because of whom, all these exceptional results are possible. 
Which product is most requested by your customers and why?
Let's just say that shrink sleeve is our "specific product"! We offer our customers with the flexibility to select any kind of graphic and finishing available on the market. Customers can choose from a variety of options such as metallized inks, screen inks, colored foils, thick, opaque or iridescent paints, etc., which could either be used individually or in combination as desired by the objectives of the customer. 
In terms of production, what are your main production equipment?
In terms of capacity, our group, Arca Etichette has more than 4 "traditional" printing machines and 2 "digital" printing. Having said that, For Arca Sleeves we wanted to purchase the next generation highly automated printing press and hence in August 2019, we purchased the 10 color OMET XFLEX X6 UV-LED press. 
As confirmed by OMET, Arca Sleeves was the first company in Italy to invest in ink drying technology with "LED" in the shrink sleeves sector and this makes us proud, proving our commitment towards "sustainability" and the environment.
In addition to the OMET press, we will also be installing the second tubing line in the coming months, which too is the state of the art technology equipment available today amongst the manufacturers of such types of machines.
A nice example of the quality of Arca Sleeves on the Santero bottle shrink label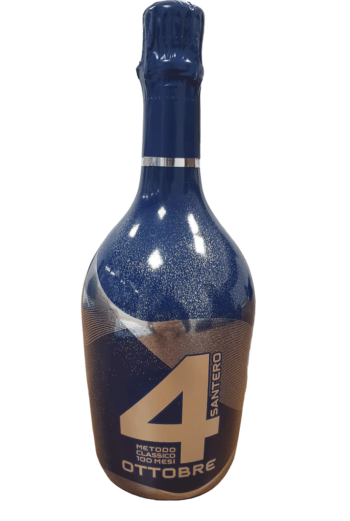 Are you satisfied with your choice of OMET machines in terms of performances and service?
Our evaluation and choice of the machine has been very thoughtful considering a lot of key parameters such as machine innovations, wastage parameters, build quality and most important supplier reliability. We have already seen improvements both in terms of production and waste reduction, since the time we have installed the new OMET machine.
What growth prospects do you see with OMET machines in the coming years?
Growth has always been the focus area of Arca Sleeves. It's for this reason we have recently invested heavily on doubling our factory floor space, added new technical and commercial resources and also new management system. We plan to maximize the return on these investments in 2020 and 2021. However we are keen to invest in another machine, probably with a larger width within our expansion plan of 2021-2022. 
What market developments do you foresee in the near future? How are your investments oriented?
We can say that today Arca Sleeves excellence lies in the "Wine & Beverage" sector and hence in the future we wish to develop the Cosmetic, Chemical and Detergency/Hygiene sectors.
After a long series of important investments in equipment and structure, we have initiated an interal project aimed at implementing training and specialization of our staff to enable us to grow in this direction.
Sustainability and environment are considered as one of the most important trends in the packaging industry now. Are you willing to follow them?
Obviously yes, as previously mentioned and demonstrated, we are already moving in this direction and will continue to invest further to enhance our solutions which are innovative and sustainable for the environment. It's for this reason we regularly collaborate with our main suppliers and assist them in testing and evaluating new raw materials.
How are you positioned on the Italian market and what growth prospects do you see in the short term?
The Italian market currently consists of 99% of our target customers. While it's difficult to assess our market share, we can surely say if the customer is looking for a "100% specialized" supplier of shrink sleeves, exclusively working in sleeves sector and is capable to handle the complete workflow from design to production, with a large production capacity and fast delivery, we are one of the very few ones with such capabilities. 
 Arca Sleeves management with new OMET X6. From the left Giuseppe Gazzotti, Marco Balconi and Alessandro Solcia.
OMET Marketing Department
Mr. Massimo Bellingardi
OMET Srl – Via Caduti Lecchesi a Fossoli, 22 – 23900 Lecco
Telephone: +39 342 3636767
Email: massimo.bellingardi@omet.it