The past 12 months has been one of intensive modernisation for Currie Group under the guiding hand of new CEO Rob Mesaros. Now, the company is preparing to unveil a new look and feel at PacPrint, to reflect the transformation within.
Mesaros, who took over the top job in early 2021, has been clear about his intentions from the start, with intensive efforts behind the scenes to redesign the systems, tools and processes which allow Currie Group to remain agile and responsive into the future.
Now, that modernisation strategy is paying dividends, with the company not only maintaining its team and its dominant market position over the past 12 months, but acquiring some significant new brands to its product stable and, most recently, introducing its own refreshed brand identity, which PacPrint visitors will be among the first to see.
"The 2022 timeslot has proven to be ideal for us, as we can have a genuine unveiling of our new look, feel and approach, showcasing in a very resolved and complete way, just how we have evolved as a company," Mesaros says.
For a start, he says, the stand will be quite a visual departure from what's been done in the past, not only due to the fresh branding but also a more solutions-based approach.
"Our aim at PacPrint is to put a very strong focus on applications, showing visitors what is possible in a very tangible way, then working with them to explore how they can make those possibilities a reality in their own business," he explains.
While this will mean a little bit less 'heavy metal' on the stand, the company will be running live demonstrations on an impressive selection of technologies within specially-designed engagement spaces, including the much-anticipated HP Indigo 100K Digital Press, the very latest in grand-format technology from new partner EFI, plenty of options for finishing and 3D printing, and some revolutionary label and packaging solutions.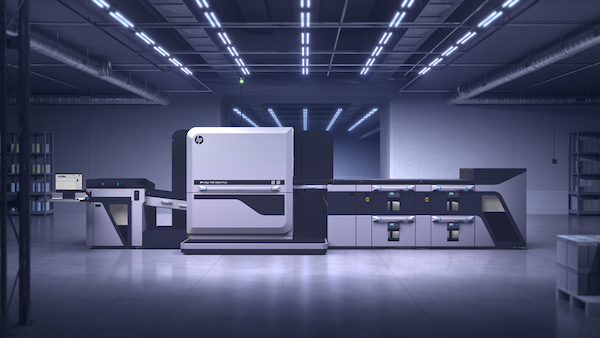 "The HP Indigo 100K Digital Press is expected to be a real highlight of the stand, representing the latest evolution of what has become the benchmark for high-quality digital presses," Mesaros says, adding that the press will be demonstrated live, as will its stablemate, the HP Indigo 7K Digital Press.
While the 7K model will be familiar to many, the new 100K – being hailed as a 'breakthrough' press with true, non-stop print capability – is totally new to the A/NZ market.
"This press can not only boost margins on short runs, but also help businesses tap into new digital markets to secure long-term business gains," Mesaros says. "It's already generating a huge amount of interest with a couple of orders even placed ahead of its release, so we're really looking forward to demonstrating it at PacPrint."
Other highlights will include the market introduction of the new EFI Pro 30h – a 3.2-metre hybrid flatbed/roll-fed LED entry-level production printer which will be supported by an extensive showcase of wide format applications for sign and display.
Put caption in italic under image
"This machine can print to a diverse array of substrates, both rigid and flexible, using environmentally-friendly LED imaging technology to produce superior image quality, helping businesses extend their capabilities into the sign and display space with a versatile, productive machine at a very attractive price point," Mesaros says.
In the label and packaging space, an HP Indigo 6K Digital Press with its established credentials in high-speed digital label and packaging production, will be joined by an ABG Digicon Lite 3, a compact and easy to use digital label finishing machine which can operate in-line or as a stand-alone unit to provide versatile solutions including foiling, varnishing, slitting, scoring and sheeting.
"We are also planning to give visitors a virtual 'sneak peek' at some very exciting new developments in this space, as well as showcasing some highly engaging applications which will demonstrate how the right solutions can take the power of labels and packaging to an entirely new level," Mesaros adds.
This line-up will be complemented by a range of finishing solutions including the next-generation Horizon BQ-500 iCE perfect binder, the latest in 3D printing technology and of course, the expertise of product experts.
"In particular, we'll have brand security experts on hand to discuss the wide range of options available to help protect brand integrity, improve traceability of product, and reduce the risk of counterfeiting," Mesaros says.
And, while Currie Group might look quite different at the Melbourne show, he's adamant some things will never change. "We know we have to be constantly evolving to stay a step ahead," he says, "but the core values and strengths for which this company has been known for more than 70 years will always be there, as we continue to support the success of businesses in this industry."
Currie Group will be one of well over 70 exhibitors to take the floor for PacPrint, which will run at the Melbourne Convention & Exhibition Centre from 28 June – 1 July, 2022. Click here to register for the show or go to www.pacprint.com.au for more information.