"We have on show virtually one of our complete label and packaging products portfolios," said Mark Daws Director Sales – Label & Packaging ANZ at Currie Group. "We have an HP Indigo 6900 – our flagship Indigo narrow-web press, running in-line with the new GEM technology which stands for Graphics Enhancements Module. This does hi-builds and foiling completely in-line, with press speeds of 600mpm, with just one digital file and no tooling.
He said HP also had the HP Indigo 8000 digital press, running directly in-line at double the speed, with an ABG Digicon finishing line, with auto slitting; FastTrack die-cutting at 80mpm; and a semi-auto turret at the end.
"We're showcasing the HP Indigo 20000 digital press – the latest release model – which has an enhancement pack and lots of new features, both software and hardware," explained Mark. "But the main highlight is that we're showing it running with an in-line coating system developed by ABG. The benefit of this is that we can print a white in-line. For flexible packaging, for instance, running the flexo white at the end and/or a varnish, in-line."
Mark said this opens-up new opportunities for the HP Indigo 20000 for flexibles; IML; and traditional varnishing and slitting in-line. "This is a brand-new launch, shown for the first time here, and called ILC (in-line coater). We foresee many opportunities for converters to extend their range of services to customers with this."
Added to the new presses, HP was releasing new inks: "We have silver running already on more than half-a-dozen presses across Australia and New Zealand," said Mark. "It's been highly successful, and there are more orders in the pipeline for
upgrade kits. The most recent upgrade to our inkjet portfolio across labels and packaging, includes light-fast inks; invisible inks other than under UV light; track and trace inks for security features; fluorescent and specialty colours, There's a whole swathe of new inks coming through, that will enhance the finished product."
He said these consumables would play a big part in the company's presence and extend the eco-system around HP products. 
"The fact that HP has been continuing to develop its value-adding on top of the technology they have created, is terrific news for our customers." Another new release is HP Indigo Pack Ready for Labels. "Pack Ready already exists in the flexible packaging space for the Indigo 20000 with a zero cure lamination system. So, we can take the digitally-printed product, laminate it to structures with no solvents and no curing window, and deliver to market – instead of it sitting in a hot box for several days. That technology has now been developed for the label industry, and by putting in some additives around the varnishes, we can almost bulletproof the inks, making them virtually water-resistant, chemical-resistant; and improving the life and robustness of the ink."
Mark said over time, HP was developing solutions that tick a lot of boxes that converters didn't have previously. "The latest-release models have lots of enhancements, increasing the image width, uptime performance – all kinds of incremental things.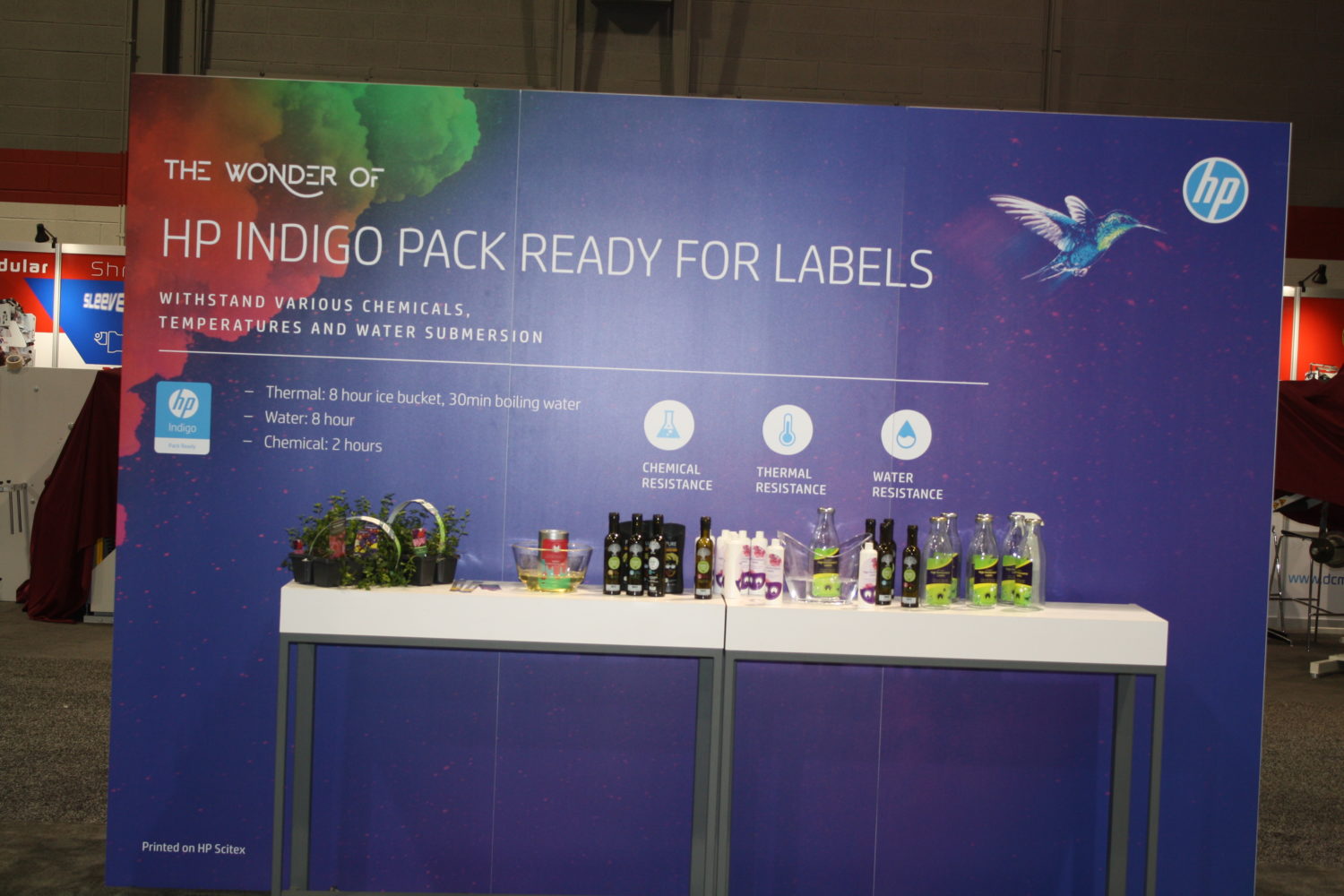 (pic caption: )  Currie Group's Mark Daws said the GEM (Graphics Enhancements Module) technology, running in tandem with an HP Indigo 6900 at Labelexpo does hi-builds and foiling in-line.
"The average run in the market today is about 1500 metres in Australia. In New Zealand, it's about 700 metres and almost all label printers have a digital footprint, whether that is a desktop; entry-level or up to an Indigo press. If they haven't, they're looking at it. And a lot of them are looking to value-add in other niche markets. We have seen a lot of interest in the HP Indigo 20000 and where previously, it was appealing mainly to the already-digital shop, they're all realising today, that flexible packaging is a $1.4 billion industry in Australia and New Zealand, and there is massive potential and opportunity in that space.
"Many converters are looking at ways to add short-run digital packaging, and doing that with HP Indigo 6900 or 8000 digital presses. They're getting into new niche markets and building their businesses. But there does come a point where width becomes an important consideration – for pouches for instance – and then the Indigo 20000 is the logical step to get into that space, while still printing labels. Because we can gang different size repeat jobs across the web, slit down the middle and finish it on an ABG Digicon. Now, they have the option to do wider products in flexible packaging and we're seeing growth in this market, from ground zero. They are creating a market in short-run digital packaging and we see massive opportunity for our customers to move into those applications and grow."
He said shrink sleeve was another opportunity, as was IML. "The Indigo 20000 sits across digital packaging and labels, but we are seeing traction in that flexible packaging converting area, and people assessing the value and capacity opportunity with digital."
Mark said Currie Group's approach was to partner with the printer/converter by not only selling the best equipment for the job, but supporting it as well. "Adding to that relationship and extending it is the IP and expertise that we have on our team now. We can deliver a complete end-to-end proposition that is unique.  It's about the solution and the help and advice on how to do it – in-line or offline? What are the gaps you need addressed; business development or training sessions. We can leverage off the HP DScoop program as we help businesses to grow and we're forming alliances with businesses to maximise the benefit of the equipment." 
(Pic caption:) The Pack Ready offer has been extended to Labels and takes
digitally-printed product, laminates it without solvents, ready to deliver to market without a curing window.