QLM Label Makers Officially Opens NEW Brisbane Factory
DATE:    25 June 2020
Unable to have their planned Official Grand Opening of their new world-class, 3000m2 purpose-built label and packaging manufacturing facility in Berrinba (Brisbane) QLD, AUSTRALIA, QLM Label Makers made the decision to hold their GRAND OPENING utilising Zoom Webinar technology on Wednesday 24th June, to create a 'virtual' event with all the fun, dignitaries and fanfare usually associated with such an event.
Hosted by Marketing Manager Jo Forbes-Salmon, the event included a welcome speech from General Manager Andrew Siwicki, official opening address by CEO Simon Pugh and messages of support from Government officials: Hon Karen Andrews MP, Federal Minister for Industry, Science and Technology, and Hon Jim Chalmers MP Federal Shadow Treasurer.
According to General Manager Andrew Siwicki "QLM is a passionate company and we are so excited to finally open our virtual doors to our world-class operations. We are so proud of our purpose-built facility, bringing us to the forefront of manufacturing for quality labels and packaging.The little company that thought it could is now doing it – and still 100% Australian owned."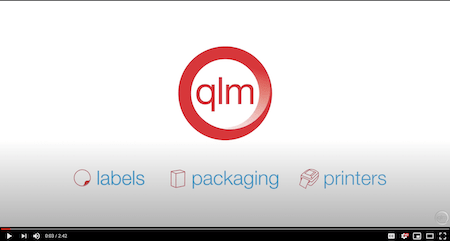 Video
CEO Simon Pugh also commented on the idea of hosting a virtual event "I was asked why now. Why in such troubling times. And we believe that it is actually for this very reason of uncertainty that we choose to focus on the great relationships we have with our team, with our clients and suppliers, to focus on the possibilities that are possible when we get creative."  Pugh also noted that while it may 'save on the catering bill', "We are really looking forward to the opportunity of having you in our factory, in person, whenever the circumstances allow."
QLM Label Makers also launched their newly created Corporate Video highlighting the manufacturing capabilities of their Australian operation, including the new primarily Flexographic operation in Brisbane and the Digital Production manufacturing facility in Melbourne.  Video link: https://www.youtube.com/watch?v=DTmv3VaYs5g as well as a number of messages of support from supply chain partners and customers.
Nearly 500 people attended the online event and a recording of the event will be made available on their social media platforms. QLM Label Makers employs over 100 staff across Australia and has operations throughout Asia Pacific including Australia, Malaysia, Cambodia, Bangladesh and Vietnam.
MEDIA ONLY COPY OF EVENT WEBINAR (not for publication): https://youtu.be/CyUww7rEPA8
Edited version will be available on Friday 26 June on YouTube channel for general public
https://www.youtube.com/channel/UC5dFfzGfAFGoDh-5JuTfvgw
FOR FURTHER INFORMATION:
Contact Name: Mr Lindsay Nutley – Director of Marketing
Phone: Whatsapp: +84 9 3217 3688
Email: (preferred) lindsay.nutley@qlmgroup.com
QLM Label Makers are committed to #makingitforaustralia   
Kind regards,
Lindsay Nutley
Marketing Manager
p +84 9 3217 3688  
QLM Label Makers 
Australia – Malaysia – Bangladesh – Vietnam
350/7 Nguyen Trong Tuyen St, Ward 2,
Tan Binh District Ho Chi Minh City 70000p +84 28 3815 6217 w www.qlmgroup.com