When it comes to being "everywhere" nobody had more of their machines working on press-maker's stands than ABG. Mark Hyde, ABG Sales Manager for UK, Ireland and Australasia, said the 2017 show was a record for the company – having a bigger presence by assisting other manufacturers to present a complete solution across a range of equipment and markets. As is natural for this canny UK manufacturer, a show isn't a show without something new to save the label printer time and effort.
"These are very exciting times," added Tony Bell, ABG's Sales Director. "Anyone familiar with our products knows innovation doesn't stand still at ABG, but that isn't the sole contributor to our winning formula. What keeps us ahead of the competition are strong customer relationships and consistently high build quality, plus a worldwide network of sales and service centres. Our customers know they can rely on our finishing machines for many years, because they're built with exacting precision to retain their value.
Mark said at Labelexpo they were launching a new flat screen printing unit, which traditionally, is the slowest module on any finishing machine. We're now doubling productivity. "The new module has a full rotary web motion, improving the quality of UV Curing whilst still using a flatbed screen and ensuring consistency along the whole web.
"Whilst the physical size of the module has been reduced by over 20%, the print area has increased to 410mm in the web direction, making it compatible with our Big Foot 50T hot foil stamping unit. There is also the option of a chill roller for delicate substrates. Operators will benefit from an easier set-up through motorised lateral and skew adjustments for precise screen image position, plus real-time servo adjustment of the squeegee and scraper position. This makes it easy for the operator to regulate the level of ink through the mesh and onto the web."
Another result of the drive for innovation is the introduction of a digital embellishment module on their laser machine. The laser is an exclusively digital solution, offering a totally-automatic workflow, which allows countless short run jobs to be cut without the need to stop the machine to reset cutting parameters. To further complement this, there is a new digital embellishment module, which allows foil and high build varnish to be processed – without the need for printing plates or tooling."
Mark said another stand-out on the booth was the Digicon Series DS3 with FAST Track die which allows the HP8000 to run in-line with the Digicon Series 3. "We developed the FAST Track semi-rotary die which runs up to 150mpm and offering an in-line/offline solution, with I-Score automated edge trim; Auto slits; and the newly-automated Auto-Set Vectra turret rewinder.
"Using a barcode printer for closure labels on the end of the turret, our FleyeLink Workflow Manager can identify faults and creates a roll map of defects. If the camera detects a fault, it communicates with the printer and the error information is printed on the barcode on the closure label. The faulty rolls can then be edited on a small rewinder, where the operator simply scans the barcode and all errors are flagged with full information on screen. Alternatively, the camera data file can go to the QC dept for editing before the final rewind operation. It's a very efficient way of getting product through the finishing dept quickly to the end-user, completely safe in the knowledge that all rolls are of the highest quality.
"We're also showing a quick-change mandrel facility and Auto-Set turret, so we can register all of the relevant information and have the machine ready in less than five minutes.
"It was developed as a result of the introduction of our glueless AutoSet turret at Labelexpo Americas last year, which allows the turret to be used in far more varied applications. However, while the turret could then be set in seconds, the mandrel changeover created a bottleneck. So to resolve this, we've launched a quick-change mandrel system, which can be changed without tools, in seconds."
Also new is a fully-automatic turret rewinder on their German manufactured SRI (slitter inspection rewinder), offering an increased automation of production and all its associated benefits. With ABG being the only manufacturer to offer both 100% camera inspection and slitter rewinding in one seamlessly integrated machine, this new turret makes for an even more attractive product and giving a complete start-to-finish solution.
In total, the ABG stand was abuzz with innovation and improved finishing systems. And converters had a wide choice of equipment to inspect including:-
Digicon Series 3 beverage specification with new screen printing unit and 50 ton "Big Foot" foil and embossing module
Digicon Series 3 with FAST Track die in-line with a non-stop turret rewinder with 100% camera inspection and workflow link
Digilase laser cutting machine with automatic job changeover
Digicon Lite 3 – entry level finishing equipment
Converter Series 3 running with SGTR Auto set glueless non-stop turret rewinder
ECTR turret rewinder with a bowl feeder and automatic core loader
A range of inspection slitter rewinders – one of which included a fully-automatic turret rewinder
Booklet module.
For further information contact Mark Daws at Currie on +61 (0)3 9810 8888, +61 (0)411 755 400, Skype: mark.daws or visit www.curriegroup.com.au.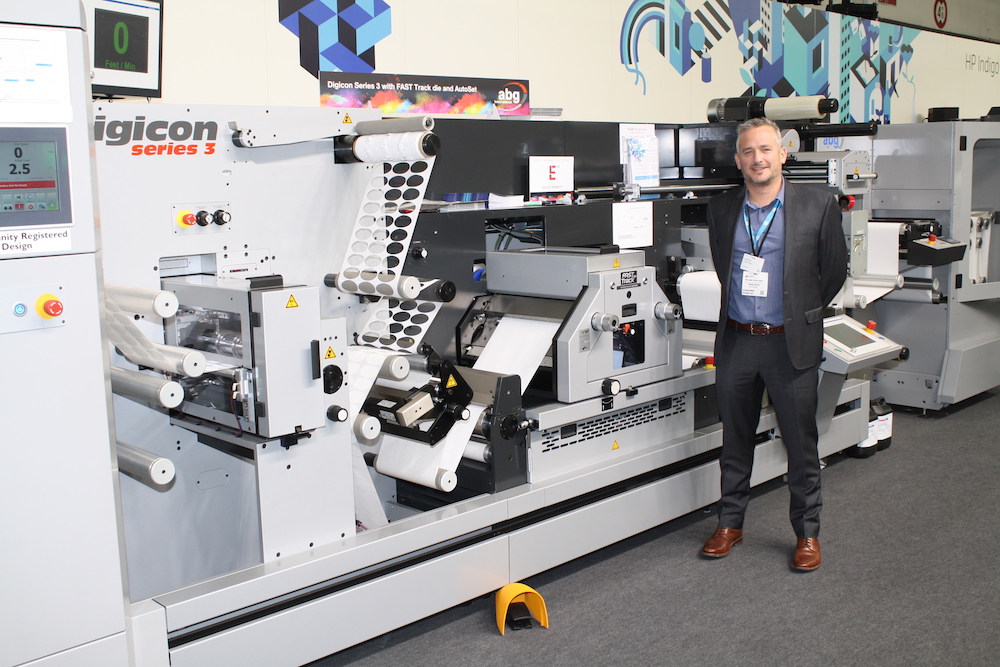 Caption: Mark Daws, Currie Group, with the Digicon Series 3 which was also featured running on the HP stand.
Caption: Jon Murray, Technical Product Manager, Currie Group and ABG Sales Manager Mark Hyde at Labelexpo, where ABG finishing solutions were seen running in tandem on many of the presses.