Australia is vast. The long distances between the major capital cities and the more remote regional centres means that it's not easy to get the service you need when you need it. Rob and Tracy Kingdom from Aldine Printers know how important it is. As label printers with a reputation for exceptional customer service and results, they need to know they can rely on their suppliers to be there when they need them. It's a matter of trust. Which is why they have once again invested with Rotary Engineering, purchasing the latest release Rotamag Quantum Digital Finishing 340 Junior.
Rob Kingdom, owner of Aldine Printers, has always worked in the label printing industry in far North Queensland. He and racy bought into Aldine Printers in 2003 and then bought the
business outright in 2006. The opportunity to own a business was a dream of theirs. Having so much experience in label printing they knew what it would take to make the business
successful, and the ethics and expertise to see it grow.
"You reach a point when working for someone else where you just can't go any further," says Rob Kingdom, Aldine Printers. "So, when the opportunity came up to work with Wayne, and then take over the business, we jumped at it. You must have a go."
Rob and Tracy continued to grow the business, making astute decisions along the way and always staying true to the ethics that have always been at the core of their operation. "You have to be honest with customers, do what you say you will do, and be loyal," says Rob.
"Even though Cairns is a major regional centre, we still pride ourselves on delivering the
type of personal service you would expect in a small town. Up here, trust is very important. We have customers from across the country and overseas; they all put their trust in us to deliver a great job, and that's what we do."
The need to trust others is intrinsic to business, especially for manufacturers. "We have always been a label printing business," said Rob. "We rely heavily on the presses and finishing equipment we operate to deliver for our customers. If they fail, if we cannot get parts or get a service technician to look after the equipment, then that puts us under a lot of pressure. Their support is vital to our business. If we know we can rely on them, then that's who we will do business with."
The ability to trust a manufacturer was one of the driving decisions behind Aldine Printers' latest investment, the Rotamag Quantum Digital Finishing 340 Junior from Rotary Engineering based in Milperra, NSW.
"We have seen a definite shift towards digital label press and finishing technology," said Rob. "Run lengths are getting shorter but more frequent. Customers want vibrant colours, great effects, and they want to be able to tweak designs without a lot of work and cost involved. Digital technology ticks these boxes. For us to be able to provide the best options for
our customers means that we must have the latest print technology that can perform these tasks."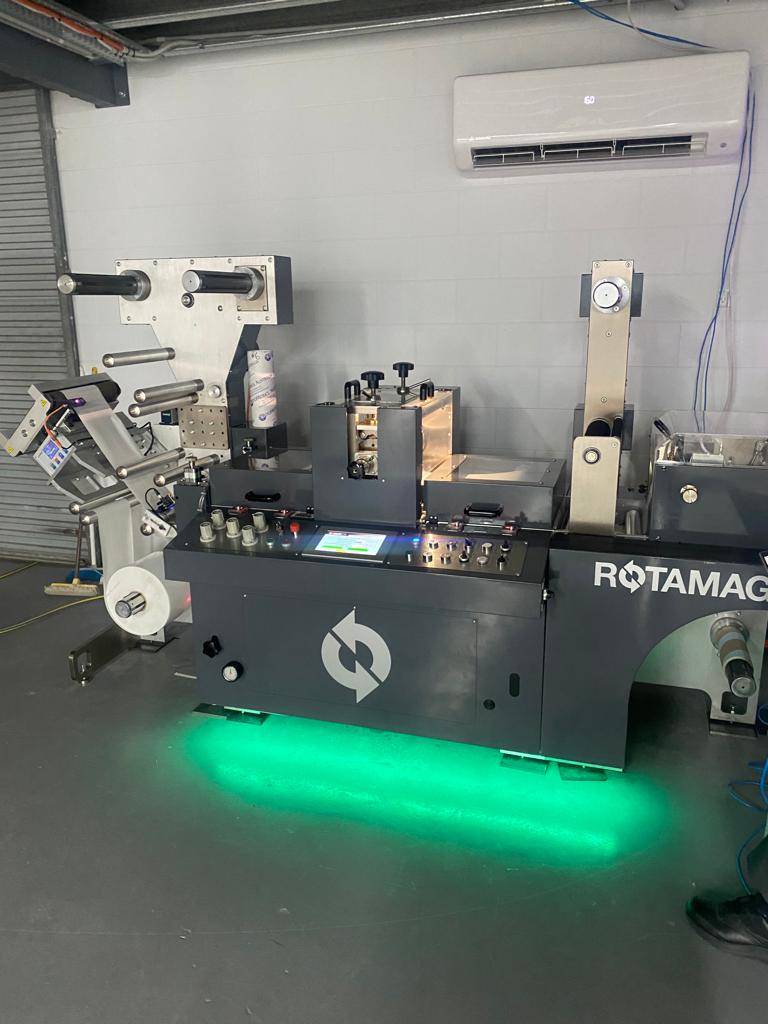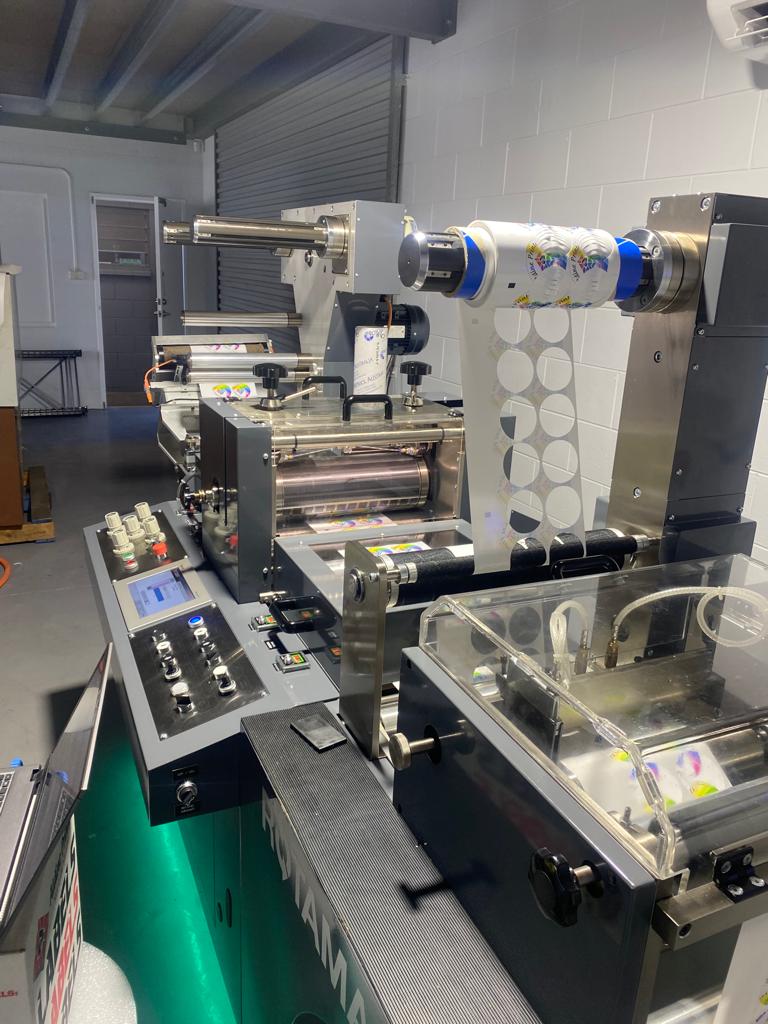 Knowing what they needed to do, the team at Aldine Printers began the search for a finishing press that would have the capabilities and backup service and support they needed. "When making an investment in new technology, we weigh up all considerations and potential products," said Rob. "As a manufacturer, you can't afford to make the wrong investment. The technology must meet certain performance criteria and be backed up by genuine service and support. We looked at a lot of options."
Rob and Tracy's search would lead them to the Rotamag Quantum Digital Finishing 340 Junior built by Rotary Engineering. "We have a long relationship with Peter Jessop and the
team at Rotary Engineering," says Rob. "We spoke to Peter about what we needed, and he took us through everything the Junior could do. We have purchased other print technology
from Rotary, so we knew we could rely on their service support. It's a long trip from Sydney to Cairns, but Peter has visited us multiple times."
What really impressed Rob and Tracy was the performance of the Digital Finishing 340 Junior. The speed of setting up and making ready job to job, with very minimal waste between jobs. "It usually takes something extraordinary to impress us, but that's what the Junior did," says Rob. "I'll be honest, the system is performing better than we expected … and we expected a lot. We can offer our customers more services and keep our costs
down by being more efficient and saving time."
The Rotamag Quantum Digital Finishing Junior has a web width of 340 mm and an unwind reel diameter of 600 mm. There's a semi-rotary die cutting station and a crush cut slitting
unit featuring four knives. It's a flexible system, so it can grow with the needs of the operator. It will fit in with the company's other equipment that includes foil printing, flatbed letterpress, flexo and wide format printing, and their digital press.
"We've had the Junior in place for about three months now and it has been working flawlessly," said Rob. "It's great to have partner like Peter and Rotary Engineering, delivering on what they promise and being there ready to service our machines when we need them. We have complete trust in them and the label printing technology they manufacture."
With a growing business and demand for greater printing options and finishes, Rob and Tracy at Aldine Printers have the equipment they need to maintain that famous level of
customer service and quality product they are famous for. Their job is made easier because they have a partner they can trust.
Caption:
Rotamag Quantum Digital Finishing 340 Junior
For more information about the Rotamag Quantum Digital Finishing Junior, please visit www.rotaryeng.com.au
For more information about Aldine Printers, please visit www.aldineprinters.com.au