Leading print finishing equipment manufacturer, A B Graphic International (ABG), has expanded its range of modules for its Digicon Series 3 with the launch of their latest, newly branded digital technology – DigiJet (JetFX).
Opening up a new world of high quality digital embellishments techniques, DigiJet gives an online or offline fully digital embellishment, allowing for multiple processes in one pass, including spot varnishing, digital foiling and tactile screen on any size of print run. Its main features include two inkjet heads with UV pinning and UV curing, automated cold foil throw-off, a shuttle system for zero waste and stop start at job changeover, chill rollers for sensitive materials, pre-press software and food compliant fluids.
Available in single bar or dual bar configurations, DigiJet technology allows the quantity of varnish to be easily adjusted to a height of 225 microns, thereby varying the required finish. Jobs can be automatically changed on the fly and the DigiJet module can be integrated with workflow and MIS options as preferred.  
With module training and service backed by ABG's global service offices, the DigiJet module has been installed in a number of Digicon Series 3s internationally, as well as being retrofitted to existing machines with notable success.
"DigiJet is a revolutionary module for the digital market," commented Matt Burton, ABG's global sales director. "With technology improving all the time, digital embellishment is where the future is –  perfect for short runs, no tooling costs, the ability to change jobs quickly, variable data, personalisation and dramatically reduced lead times. DigiJet will undoubtedly be a game-changer for many of our customers."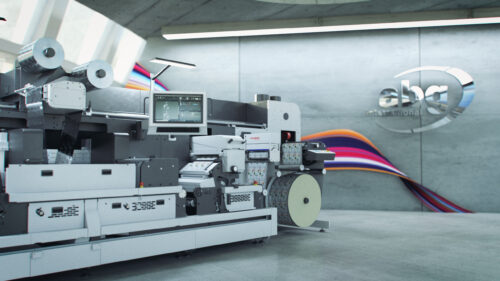 ABG has produced an explainer video to accompany the launch of their DigiJet embellishment module – the insight can be viewed at https://youtu.be/-rNIsiMV6dg. Sample packs can also be requested by contacting Claire Fenton at ABG clairef@abgint.com.
With manufacturing facilities in the UK, Spain and Germany and a global network of sales/service offices, ABG has been manufacturing innovative print finishing equipment for over 65 years, during which they have installed over 12000 finishing machines throughout the world.
Ends
About A B Graphic
Established in 1954, ABG is a market leader in digital finishing equipment. The company has 353 employees worldwide, with more than 200 employed in the UK. During the course of their 66 years of business, ABG has installed over 11,000 machines worldwide for 2,500 customers.
With each site being a centre for excellence for a specific range of products, ABG has manufacturing facilities in the UK and Germany. Sales and service offices are located in the UK, Germany, USA, France, Holland and Spain, and with a worldwide network of distribution partners, ABG is well placed to provide comprehensive support to businesses globally.
Constantly innovating and seeking opportunities to improve efficiencies and workflow for their customers, ABG's recent acquisition of Girona-based Enprom Solutions, has added a wide range of flexible packaging products to their expanding portfolio.
 A B Graphic is supplied in ANZ by Currie Group.
http://www.curriegroup.com.au/index.php/labels-packaging/converting-digital-web